By Dapo Akinrefon
THE shocker for the president was evident on nationwide television. For more than 20 minutes the president could not get his Permanent Voter's Card, PVC matched by his fingerprints as the miracle device, Card Reader failed to work. Another device was brought, still no show.
Again another one and still no way, and not even a fourth reader waved the president through, forcing the officials to rely on the manual accreditation of President Goodluck Jonathan, the candidate of the Peoples Democratic Party, PDP in last Saturday's presidential election.
The story was the case in many other areas of the country, though with less spectacle.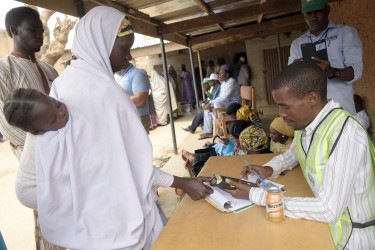 The innovation to Nigeria's electoral process, the Smart Card Reader, SCR, was welcomed with mixed reactions especially by the two major political parties, the PDP and the All Progressives Congress, APC. While the PDP raised serious objections to its use, the APC on the other hand, demanded the use of the card readers, insisting even when the device failed in some places last Saturday, that the election in those places be postponed until the devices were made to work.
The INEC chairman, Professor Attahiru Jega, however, gave his assurance that the card readers would go a long way in preventing rigging in the nation's electoral process.
Indeed, angry reactions trailed the use of this new electronic device as it was argued that Nigeria was not prepared to utilise this technology.
Some of the devices failed to read the biometric data of voters who turned up to perform their civic duties at various polling stations across the country.
Why card readers malfunctioned – INEC
In a bid to clear the air on why the technology failed, INEC indicted some of its officials.
The commission said one of the reasons the card readers deployed for Saturday's presidential and parliamentary polls failed was because its officials failed to remove the protective film on the lens of the equipment.
Reviewing the conduct of the exercise, Mr. Kayode Idowu, the spokesperson to the INEC Chairman, Attahiru Jega, said that reports that the devices may have failed to function as a result of the non-removal of the protective film on the face of the lens of the card reader may have been true.
Idowu said "We (INEC) received reports that some of the card readers may have failed to function because officials that handled the devices may have failed to remove the protective film covering on the face of lens."
He said the film may have blocked the lens of the card reader, making it difficult for it to read the biometric data in the PVCs presented by voters for scanning.
The spokesperson, who admitted this was not the only flaw identified in the new electoral process deployed during the election, said the Commission had taken note of the challenges and would effect corrections in subsequent elections to ensure that the exercise was more credible and acceptable.