LAGOS — The nation was in suspense, yesterday, as results from last Saturday's presidential and National Assembly elections continued to trickle in.
At press time, only Ekiti and Osun States had fully declared results of the elections. President Goodluck Jonathan, the presidential candidate of the Peoples Democratic Party, PDP won all 16 local government areas of Ekiti but lost in Osun.
In the National Assembly results declared, the President of the Senate, Senator David Mark was in pole position to become the only senator to have survived since 1999 having won all five of the seven local government areas in his Benue South Senatorial District.
However, Governor Babangida Aliyu lost in his Senate bid. He lost in all the wards of Niger East Senatorial District to David Umaru of the All Progressives Congress, APC. The incumbent senator for Niger South, Senator Zainab Kure also lost in her bid to return to the Senate.
President Jonathan, who returned to Abuja on Saturday night after voting in Otuoke, Bayelsa State, Vanguard learnt, had strategy sessions with senior officials of the PDP in the Presidential Villa on the ensuing development.
Abia: Orji wins
Governor Theodore Orji was returned as senator for the Abia Central Senatorial District, beating his All Progressives Grand Alliance, APGA challenger, Emmanuel Nweke by 65,653 votes to 46,070 votes.
The Presidential election results so far announced in Kogi State by the various returning officers in 11 local governments shows that the APC, won in six local governments while the PDP won in five local governments.
The results were announced at the INEC headquarters under the supervision of the State Resident Electoral Commissioner, Alhaji Halilu Hussain Pai, and security agents.
In Delta State, deputy leader of the House of Representatives, Rep. Leo Ogor easily beat off a challenge from his APC opponent to coast home for a record fourth term in the House.
Trends from states, however, showed President Jonathan in a stiff fight against his APC challenger in most sections of the country with the president losing ground in Kwara, and most of the South-West states, sections of the country that projected him to victory in 2011.
In Osun, Buhari polled 254,739 votes while Jonathan scored 168, 476 while in Ekiti, Jonathan polled 176,474 votes to 120,332 polled by Buhari.
In the FCT, results released from two council areas showed that in Abaji Area Council, Buhari beat Jonathan in the presidential poll by 10,853 votes to 7,762 votes, according to the results released by the Returning Officer, Dr. Abdullahi Mohammed Evuti of the Department of Chemical Engineering, University of Abuja.
He also announced that Buhari polled 15, 348 to beat the PDP candidate who scored 13,091 votes in the contest in the area council.
KANO: Buhari in comfortable lead in 7 LGAs
Buhari, at press time, was in a comfortable lead in seven local government areas announced by INEC yesterday afternoon.
The results announced by the returning officer, Professor Mohammed Hamisu, former Vice Chancellor of Abubakar Tafawa Balewa University, Bauchi indicated that in Albasu local government area APC scored 34,000 votes, while PDP polled 3,047 votes.Click here to see Presidential Results 
In Kibiya, APC posted 23,000 votes while PDP scored 4,999.
Also in Gabasawa council area, the APC received 31,000 votes, while the PDP polled 8, 840 votes.
In Bagwai local council, the APC scored 38,750 votes against PDP 8,159; Kunchi Council, the APC scored 24,542 votes as against PDP 2,921 votes.
In Tsanyawa local government area, APC polled 32,662 votes to PDP 4,819 while in Gaya local council, APC pulled 38,085 votes to PDP 1,888.
OGUN: Buhari wins in 7 LGAs
In Ogun State, results of the 10 local government areas released, showed that Buhari had won seven with three local government areas going to Jonathan.
The local government areas released so far are Obafemi-Owode, Abeokuta North, Odogboolu, Odeda, Imeko-Afon, Sagamu, Ijebu-Ode, Remo-North, Ewekoro, and Ijebu North-East.
Details are as follows: Odeda Local Government (number of registered voters -63,935 number of accredited voters -17,463); APC -11,102; PDP -4,456 Total valid votes -16,152
Voided votes -775 Total votes cast -16,927.
Imeko Afon Local Government (number of voters registered -35,31, number of accredited voters -23,481); APC -7,657; PDP -12,153. Valid votes cast -20,466, void votes -1,122.
Sagamu Local Government (number of registered voters -77,955; number of accredited voters -37,772) APC -15,761, PDP -17,263.
Ijebu Ode Local Government (number of registered voters -55,127; number of voters accredited -25,973. APC -14,043, PDP -8,972.
Remo North Local Government (number of registered voters -39,180; number of accredited voters -16,960) APC -6,164, PDP -9,278.
Ewekoro Local Government (number of registered voters -62,425; number of accredited voters -14,193) APC -9,626, PDP -3,227.
Obafemi-Owode Local Government (number of registered voters -74,871; number of accredited voters -24,402) APC -15,207, PDP -5,786.
Ijebu North-East (number of registered voters 36058; number of accredited voters 15214); APC- 7638, PDP -6163.
Odogbolu local government (number of registered voters 70658; number of accredited voters 25752). APC -11623, PDP -11405.
Abeokuta North local government (number of registered voters -12 5485; number of accredited voters -30556); APC 21213, PDP 5,742.
Meanwhile, at press time, APC was maintaining a clear lead in the Presidential election in the state as it has won 12 local governments while the PDP won seven councils. One council was still being expected.
The only local government yet to be declared at press time was Ipokia.
OYO
Results so far declared in Oyo State showed Buhari winning six out of the seven local government areas so far declared.
KAJOLA: APC-14,538; PDP- 11,045; AFIJIO: APC- 8,001; PDP-5,738; OORELOPE: APC-9,425; PDP -5,384; IREPO: APC-10,380; PDP -4,979; ITESIWAJU: APC-7,257, PDP-7,605. Click here to see Presidential Results 
ENUGU
Results trickling in from Enugu showed that PDP won 21,700 votes in Ezeagu Local Government Area as against APC's 407 in the presidential election.
In Isiuzo, PDP polled 21,225 while APC secured 239 votes. In Aninri, PDP scored 22,660 as against the 178 scored by the APC
In Udi, home of Governor Sullivan Chime, PDP polled 31,354 while APC polled 1020.
KATSINA
Daura: Buhari defeated President Jonathan in in Sakin Yara "A", Kofar Baru in Daura local government of Katsina State. Of 501 votes cast in the presidential polls, APC got 499, PDP got nothing while three votes were voided.
Similarly, in the National Assembly elections, APC polled 478 for Senate, PDP 18, the People's Democratic Movement, PDM got three votes while three votes were invalidated.
APC also took the day in the House of Representatives contest as it scored 500 votes while PDP and APGA polled one each.
KWARA: APC in clear lead
ILORIN: INEC in Kwara State said results from Saturday's election will not be formally known until much later today. Spokesman for INEC in the state, Jacob Ayanda, disclosed this in an interview yesterday saying only results from Isin and Oke-Ero out of the 16 local governments had arrived the commission's headquarters as at about 3.00 pm.
Vanguard, however, gathered that, results collated from polling centres across the state yesterday indicated that APC was in clear lead with most leaders of the PDP in the state losing their polling units in the election.
The PDP had won only in Oke-Ero local government area while the race for Ekiti, home council of the PDP governorship candidate, Senator Simon Ajibola, was still too close to call.
Among those who lost were Minister of National Planning, Dr. Suleiman Abubakar; Kwara Central senatorial candidate, Alhaji AbdulRazak AbdulRahaman; business mogul and close associate of First Lady, Dame Patience Jonathan, Hajia Bola Shagaya and her son, Sherrif who contested the House of Representatives seat for Ilorin West and Asa federal constituency.
According to the collation, Suleiman lost to the APC in his polling unit with the PDP scoring 27 votes against 377 for the APC in the Presidential slot while PDP again scored only 29 votes against 386 for the APC for the Senate and 35 votes against 385 for the House of Representatives.
The PDP polled 159 against 367 for APC in the presidential slot in AbdulRazaq's unit, 265 against 278 for the Senate and 313 against 227 for the House of Representatives.
Shagaya also lost to the APC in her Ojuekun Sarunmi Unit 02 where APC polled 149 against 88 for the House of Representatives and 140 against 90 for the Senate.
However, the PDP scored 143 votes against 83 for the APC in the presidential race at the polling unit.
ONDO: Collation Officer arrested for allegedly tampering with result sheets
Results of the presidential election were as at last night being declared and out of the 12 declared at press time, the APC won in seven local government areas while the PDP won in five.
Meanwhile, a Collation Officer has been arrested by the police for allegedly tampering with the election result sheets that were submitted to him after the voting.
The State REC, Olusegun Agbaje, said the man had been taken to the police headquarters for interrogation over alleged mutilation of collation forms.
Agbaje pointed out that the allegation is under investigation by the police.
Addressing newsmen yesterday, Prof. Jega said the winner of the presidential election would most likely be declared today as he cautioned against announcements by unauthorised declarations.
Jega speaks on Rivers crisis
Meantime, Professor Attahiru Jega, INEC Chairman, has said the commission had received the formal petition by the APC in Rivers State that there was no election in the state even as he promised that the petition would be investigated.
According to him, supplementary elections took place yesteerday in a few polling units in some states. They include Lagos with 90 polling units, Kebbi, 16; Adamawa, 25; Niger, 6; Yobe, 37 and Borno, eight polling units. Others are Jigawa, 37 polling units; Kano, 13; Taraba, 116 while Abuja had two.
Similarly, the chief electoral umpire added that he had also heard of the torching of the INEC office in Rivers State even as he said that he had notified the Police of the development and they have promised to carry out a thorough investigation.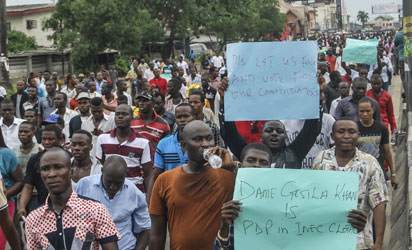 He said: "We are concerned about what is happening in Rivers State. This morning (yesterday) I received a letter from the APC party calling for the cancellation and rescheduling of the election in Rivers State. We have started investigations into what happened and if our staff are involved, we will apply the appropriate sanctions.
"We received many allegations and complaints that in some places some supervisory officers disappeared with result sheets, in fact we saw lapses more than we envisaged. In other places we received allegations and accusations that ad-hoc staff were substituted."
Use of card readers was a huge success —Jega
On the use of the card reader machine for the conduct of the polls, Jega said it was a huge success despite the noticeable lapses in some places which he put at 0.25 per cent of the over 150,000 card readers.
He said: "It is also gratifying to note that the card readers worked well in the majority of polling units, even though there were some areas where difficulties were experienced (and) necessitated additional guidelines by the commission to allow for manual accreditation of voters, as announced yesterday (Saturday).
"So far, Osun, Kebbi, Ekiti, Adamawa, Borno, Jigawa, Anambra, Akwa Ibom and Ebonyi States reverted to manual-only accreditation of voters in some polling units. Investigation into what accounted for the difficulties with the card reader is ongoing."
The chairman further agreed that there were attacks by people suspected to be members of the Boko Haram insurgents who attacked a polling centre in Gombe State which left some people dead including two ad-hoc staff on duty.
Another area of concern was the issue of under-aged voters in Taraba State, a development Jega condemned even as he said he had mandated the Resident Electoral Commissioner (REC) in the state to investigate.
Meanwhile, the APC, in Ekiti State has asked INEC, to charge the Deputy Governor of Ekiti State, Dr. Kolapo Olusola, for election violence.
APC's call followed his alleged directive to his security aide, to shoot an APC member, Jide Owolabi, in Ikere-Ekiti, during Saturday's presidential and National Assembly elections.
It also asked INEC to cancel the election result in Ire-Ekiti over allegation of violence and ballot snatching.
Reacting to the two incidents, Publicity Secretary, Taiwo Olatubosun, said in a statement that the two incidents were well plotted as strategic plans by the PDP to have undue advantage to win the ballot.
He alleged that the deputy governor's action in the Ikere-Ekiti incident was a reckless display of lawlessness and flagrant abuse of power to intimidate the opposition for advantage at the poll.
He said: "What happened in Ikere-Ekiti was a pre-meditated incident to cow the opposition to submission. We had earlier raised the alarm to the plan by top officials of Governor Ayodele Fayose's administration to employ violence and intimidation to cow our members to enable them manipulate the electoral process. We wrote the security agencies, including both local and international human rights organs, about PDP's plan. Yesterday's (Saturday's) incident was just a manifestation of the fears we raised.
The APC spokesman said the INEC and security agencies should not allow the attempted murder to go un-investigated.
Click here to see Presidential Results 
Subscribe for latest Videos