By Perez Brisibe
UGHELLI—A pipeline explosion, Sunday night, rocked Ekuigbo community in Ughelli North Local Government Area of Delta State.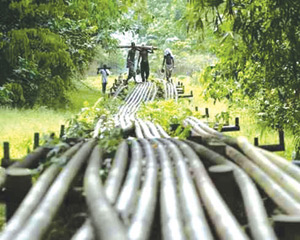 Though no life was lost in the incident, Vanguard gathered that the pipeline conveying crude oil, exploded around 9:45p.m., spilling its contents and huge balls of flames several kilometers from the scene of the explosion.
According to a witness, Mr. Odafe Samuel, who resides opposite the Ekuigbo Grammar School, a few metres from the scene of the explosion, the pipeline exploded with a loud bang which could be likened to a bomb blast.
He said: "I was inside my house watching a football match when I heard a loud explosion which shook the foundation of my house. We all ran outside thinking it was the tyre of a car, while others thought it was a bomb blast.
"Twenty minutes later, we saw a huge ball of flame from the pipeline conveying crude oil. It was then we realised that it was a pipeline explosion."
When Vanguard visited the scene of the explosion, the fire had been curtailed by a combined team of fire service officials from the area, who arrived in the middle of the night to battle the fire.
Efforts to reach officials of the Nigerian National Petroleum Cooperation, NNPC and Shell Petroleum Development Company in Ughelli on the cause of the explosion were unsuccessful as officials met directed all inquires to their respective offices in Warri.
Contacted earlier, the Ekuigbo community spokesperson, Mr. Stanley Clever, said: "The community can't comment on the matter for now. We will wait to ascertain the cause of the explosion and the extent of damage before the community can comment on the matter."