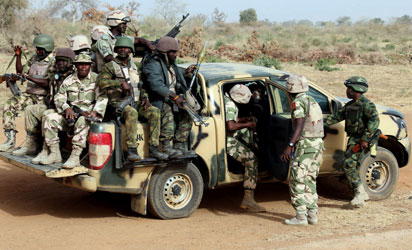 Nigerian army soldeirs patrol along a road in Chibok, northeastern Nigeria, on March 5, 2015. Nigeria's government said that work had begun to rebuild a school in the northeastern town of Chibok from where Boko Haram gunmen kidnapped more than 200 girls last year. Finance minister Ngozi Okonjo-Iweala laid the foundation stone at the Government Secondary School on Thursday on behalf of President Goodluck Jonathan, a statement from her office said. AFP PHOTO
Hundreds of mercenaries from South Africa and the former Soviet Union have reportedly been hired by the Nigerian government to fight alongside the Nigerian troops to rout out Boko Haram terrorists from the North Eastern part of the country. According to Reuters, quoting regional security, defense and diplomatic sources, the mercenaries were being paid about $400 in cash each a day.
Defence spokesman, Major General Chris Olukolade however denied the report explaining however that "there were offers of training and intelligence assistance from friendly countries. Also, our neighbours operating under the auspices of the Multinational Joint Task Force are also backing our efforts from all our borders with them and some of these arrangements predate the present operations".
In an interview with Voice of America late on Wednesday, President Goodluck Jonathan said two companies were providing "trainers and technicians" to help Nigerian forces. He did not name the firms, or the nationalities, or give numbers.
But a West African security source and a South African defense source told Reuters that the foreign troops were linked to the bosses of former South African private military firm Executive Outcomes.
Executive Outcomes was best-known for its involvement in Angola's 1975-2002 civil war and against Revolutionary United Front rebels in an internal conflict in Sierra Leone in 1995. It disbanded in 1998, under pressure from the post-apartheid government in Pretoria to curtail mercenary activities.
The West African security source said several hundred foreigners were involved in running major offensive operations against Boko Haram, and were being paid around $400 a day in cash.
Separately, a South African defense contractor confirmed to Reuters that ex-Executive Outcomes leaders were involved in the deployment, which came after the six-week postponement of elections in mid-February due to the threat from Boko Haram.
One Abuja-based diplomat said the South Africans were backed by soldiers and hardware from the former Soviet Union in an alliance against Boko Haram.
South African mercenary killed
Meanwhile, a South African mercenary was shot and killed by friendly fire during operations against Boko Haram in northeast Nigeria, a military officer and a civilian vigilante said on Thursday.
The vigilante, who asked not to be identified for security reasons, told AFP that the man died on Wednesday as Nigerian Army soldiers fought to recapture the town of Bama, in Borno state.
"He was killed when a convoy he was travelling with was mistaken for that of Boko Haram insurgents, which prompted a military tank to open fire," he added.
The military officer, who also requested anonymity, confirmed the account, describing the death as "friendly fire".
An Afrikaans-language website in South Africa, Netwerk 24, identified the victim of the friendly fire incident as Leon Mare Lotz, describing him as a private military contractor.
His wife, Almari, was quoted as saying: "I just know Leon was killed. I know that he went to Nigeria with his eyes wide open and was aware that it was a dangerous operation.
"He was with some of his brothers-in-arms who have walked a path with him for many years."
The report said Lotz's driver was also killed in the shooting, which was attributed to a "miscommunication".
IS welcomes Boko Haram allegiance
In a related development, the Islamic State group has welcomed a pledge of allegiance to it made by the Boko Haram, according to an audiotape Thursday purportedly from its spokesman.
"We announce to you the good news of the expansion of the caliphate to West Africa because the caliphate has accepted the allegiance of our brothers of the Sunni group for preaching and the jihad," IS spokesman Mohammed al-Adnani said in the message, using the Arabic name for Boko Haram.
On Saturday, an audiotape attributed to Boko Haram leader Abubakar Shekau said "we announce our allegiance to the Caliph of the Muslims, Ibrahim ibn Awad ibn Ibrahim al-Husseini al-Qurashi," referring to IS leader Abu Bakr al-Baghdadi.