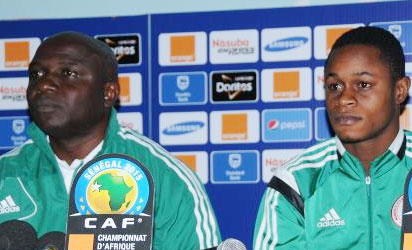 Nduka-Ugbade
Nigeria Assistant coach, Nduka Ugbade has refused to buy into the favourites tag on his team's head  in Dakar.
The 45-year old former defender says "we are just like any other team" despite exhibiting an output which has clearly put them above their peers at the ongoing 19th Orange African U-20 Championship in Senegal. The Flying Eagles have scored nine times in three games and finished tops in Group A with two wins and a draw at the group phase.
For many a fan, the Nigerian team is the favourite to win the ultimate at the eight-team tournament, but Ugbade will give no ear to that assertion insisting all remaining four teams have an equal chance of being crowned champions.
"We are not favourites. If Ghana can get to this stage and Senegal as hosts can also qualify, then any team is capable of winning the competition. Each time we face an opponent, we respect the team and try to control our emotions."
Matches between Ghana and Nigeria at any level has always rekindled the traditional rivalry between the two West African countries.
"Matches between the two teams since I was young have always been difficult and this will be no exception. We have an idea of the Ghana team having played them in two friendly matches (won 2-0 and drew 2-2). We are talking of a competition of this magnitude and surely it will be different from the friendly.
"We are a tactically astute and a very strong side. We are matured and will try to find solutions before the end of the 90 minutes. However, the team that is psychologically stronger might carry the day," said Ugbade.
Striker, Christian Pyagbara who capped his first match at the tournament with a goal during the 2-2 draw against Cote d'Ivoire in their ultimate Group A fixture last Saturday in M'Bour rates the Ghana clash like a final.
"Since we arrived here, we take every game as a final and against Ghana will be same. We will put in our best to make sure we win," he noted.