By Anino Aganbi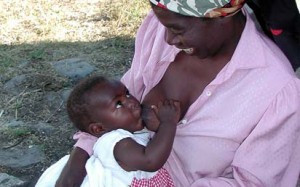 The age old dilemma of every new mother still ranges between breast feeding and using the bottle. Choosing whether to breastfeed or bottle feed your baby is one of the first decisions expectant mothers make. For every new mother, the thought of bonding with her baby makes her want to try breast feeding.
Statistics in Nigerian hospitals show that most new mothers are advised to breast feed for 6 months or longer, with nurses stating that exclusive breast milk is the best for babies.
Is this just an old wives tale to keep women from using the bottle or is there a sentimental attachment to it.  Do breastfed babies grow up any different from those who were fed the bottle? This age old argument still remains till date. Although experts believe breast milk is the best nutritional choice for infants, breastfeeding may not be possible for all women.
For most women, the decision to breastfeed or formula feed is based on their comfort level, lifestyle, and specific medical considerations that they might have. Breastfeeding helps defend against infections, prevent allergies, and protect against a number of chronic conditions. Babies who are formula fed usually stay longer between feeding hours than babies who are breast fed.
For mothers who are unable to breastfeed or who decide not to, infant formula is the alternative. Some women feel guilty if they don't breastfeed. You'll still bond with your baby just fine. After all, whether with breast milk or formula, feeding is an important time of connection between mother and baby. Most people believe that babies fed with formula do not develop as well as those who are breast fed. Woman to woman spoke with a few people as they shared their experience.
Mrs Shonibare , a 51 year old mother while sharing her experience says " when I had my first child back in the 80's, my husband and the nurses were very persistent that I breast feed my baby. I really wanted to do that but unknown to me, while I felt my baby was feeding, my milk was not flowing. This led to him crying constantly. Because I was a first time mother, I didn't even know my baby wasn't feeding.
Thankfully, a member of my husband's family came in with her children who she was still giving the bottle even at age three. She spurred me to try feeding with the bottle. My baby took over two bottles because he was so hungry before finally falling asleep. This was a baby who had cried constantly for hours after I had given birth to him. Today, that same baby who was given the formula turned out to be as healthy and intelligent as any breast fed baby. He has his doctorate degree from the University of Stanford".
A young mother also shared her encounter. She stated that after delivery, she was sceptical about alternating breast milk and formula for her baby but at her mother's insistence she did that." Believing my mother was over feeding my baby because she was very particular about bottle feeding at given hours, I never appreciated that until my baby suddenly fell ill and was diagnosed with pneumonia. This was a baby who was barely a few months old. Thankfully, he was able to recover faster than most of the babies who were diagnosed of having the same illness. I was grateful that because of the way my mother had fed him, he was able to build his immune system which helped him combat the disease faster."
Mrs Rosalind, a grand mother at 60 said " I have never been a staunch believer of breastfeeding alone. While I was raising my babies, I realised early enough that I didn't want to breastfeed exclusively because I was a working mother. Alternating between breast milk and formula helped me plan myself around my babies' feeding time. I discovered that a baby who was well fed was less likely to fret because he was satisfied until the next meal time. This enabled me instill regular feeding hours for my babies which they grew accustomed to unlike a baby who you would have to breastfeed as often as possible.