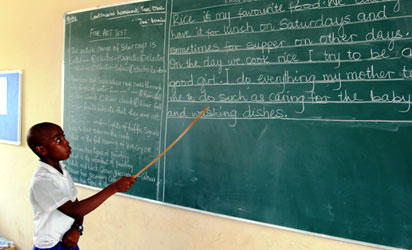 BY EMMA AMAIZE
IF the turnaround in infrastructure and facilities noticeable in many public primary and secondary schools in Delta State today is equated with the wide-ranging debility in classroom accommodation, laboratories and other instructional materials prior to the beginning of the Dr. Emmanuel Uduaghan administration in 2007, then the governor has undeniably added value to education in the state.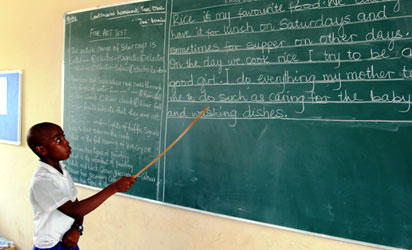 The spring in the fortunes of the Delta State University, Abraka, Delta State Polytechnic, Ogwashi-Uku, setting up of four new polytechnics and annual bursary to students of the state origin at higher institutions in the country can be described as the icing on the cake.   Uduaghan established two Ministries of Education: One, Ministry of Basic and Secondary Education headed by Professor Patrick Muoboghare who was later replaced by Dr. Tony Nwaka and the other, Ministry of Higher Education, steered by Pofessor Hope Eghagha and now replaced Hon. Charles Emetulu to drive his vision.
How the revolution started
With the increase of public primary and public secondary schools from 1,165 and 370 in 2003 to 1,293 and 466 respectively in 2013 and the accompanying population of over 600,000 students, there was bound to be an explosion, but the adoption of Universal Basic Education, UBE, programme, early in the day in 2007 when the administration took off, helped to streamline a lot of things in the sector.
That was the beginning of Uduaghan's revolution in the educational sector. He soon introduced EDUMARSHAL to get children of school age out of the street and put an end to all forms of fees and levies in pre-primary, primary and post-primary schools in the state. The government pays for West African Senior School Certificate Examination, National Business Certificate Examination, NABCE, conducted by the National Business and Technical Examinations Board, NABTEB and had spent more than N3.6 billion on running costs as at July, last year.
Game changer
The Uduaghan legacy on education assumed a life of its own with the mass remodeling of schools in the state. In 2009, 487 classrooms were constructed and renovated while in 2010 and 2011, 657 and 204 were constructed and renovated respectively. In 2012, 112 projects were awarded for construction more are being remodeled with the state- of –the –art facilities currently. The transformation of Saint Patrick's College, Asaba, Nana College, Warri and others in the category to international standards remains a marvel to many today.
New buildings entice pupils to school
Our reporter, Ochuko Akuopha, who went round schools in Isoko, Delta South senatorial district,   reports that the people, staff and students were happy with the governor's evident paces in education. At Isoko Central School, Oleh, the headmaster, Mr. Daniel Idoghor, said the structures and facilities were wonderful, adding that the atmosphere encourages staff to teach and pupils to learn.
He said the structures entice pupils from other communities to Oleh and that the governor had done far above expectation in the educational sector.
Assistant headmaster, Mr. Josepgh Avwenayeri, asserted: "When I came to the school, the structures were nothing to write home about, but as from 2011, the structures began to attract many pupils to the school. We were having a population of about 400 pupils before. Now the population is over 600."
"The classes are well ventilated and there are good toilet facilities, even the pupils that come from the villages come with vans provided by the government, so Governor Uduaghan has really done very well," he added.
Built to international standard
At Warri, also in Delta South senatorial district,   Egufe Yafugborhi reports that the new Nana Model College, Warri, a massive two-storey structure with 24 classrooms, laboratories, air-conditioned library, sports pavilion with shaded VIP section, staff offices and power plant to ensure operation of the laboratory equipment, the school is a spectacle.
The vice principal said, "The positive impact of the upgrade is too glaring for all to see. It is a better, more conducive environment entirely, and students and teachers' commitment to studies and duty is no doubt boosted."
A JSS student, who identified himself as Temi Bawo said, "Nana Model College is now the best college in Nigeria. I have not seen a better school anywhere else."
Physically-challenged not left out
At the remodeled  Alders Town Primary School, which hosts  regular students with separate facility for physically challenged pupils, head teacher (academic),  Mr Godwin Orize, said the new environment and facilities have been most gainful for the physically- challenged students.
Orize stated, "To best of my knowledge, the upgraded facilities are helping a great deal in correcting them. There is improvement, for example,
for those children with intellectual disability; we have been able to handle them. They no longer spit on themselves and those that cannot walk are gradually walking too.
"With the mix of many machines,  we teach the visual impaired how to write with the typewriter because with the brain machine and type writer, whatever they write they are able to read. We also have a teacher who is also visual impaired and she teaches them well so they are well treated and they are learning as well," he added.
New deal in Delta North
In Delta North senatorial district, Theresa Ugbobu, reports that government has modernized many secondary schools at Asaba, Agbor,   Akwukwu-Igbo and a host of other communities.   Owa Alero Secondary School, Owa Alero, Ika North East Local Government Area, which used to suffer dearth of classrooms and chairs for learning, now has a 12-classroom block.
Principal of the school, Mrs Roseline Chijindu, commended Dr Udughan for accomplishing his three-point agenda, saying the educational sector has vastly improved, but  wants motivation for teachers in terms of promotion, payment of salaries as and when due, laboratories and even chairs for students.
Enviable structures in Ughelli
At Ughelli, Delta Central senatorial district, Perez Brisibe, who visited three of the remodeled schools in Ughelli metropolis, Oharisi Model Primary School, Ogele Primary School and Otovwodo Primary School, said the people commended government for the structures.
Certified teachers
And to further enhance learning; over 1,000 professionally qualified teachers were recruited in 2010 for public secondary schools in the state, bringing the teaching staff to 14,745, made up of 5,389 males and 14,053 females. With this, the teacher/pupil ratio on the average is 1:21 in primary and 1:15 in secondary, which far exceeds UNESCO standards.
Adult education
Government has special interest in adult and out-of-school girl/boy child education, where a total of 5,192 learners have been presented for the Basic Education Certificate and Senior Secondary School Certificate Examination. This is a feat no other state in the country has achieved.
Fostering a new generation of students
On technical education, technical colleges are being repositioned for nurturing a generation of technically motivated citizens that will not be dependent on white collar jobs after graduation. Six of the schools in the state had ceased to operate the JSS system, while government is to establish three more. Meanwhile, production centers for bio-gas and concrete electric poles have been established at Sapele and Ogor Technical Colleges at the cost of N164 million.
Eight Special Needs learning centers were established for children of primary school age at Asaba, Agbor, Issele-Uku, Warri, Ughelli, Ozoro, Kwale and Oleh with a population of 758 children made up of 424 males and 334 females.
662 illegal schools shut down
The government also has its eyes on standards and had shut down 662 schools illegally operated in the state indicating that it is no longer business as usual.
82,930 desks, tables and chairs
Over N22.6 billion was expended on infrastructural development in schools across the state at July, last year and N59.5 billion allocated for capital projects in the sector. At least   26, 070 students' desk, 53,140 pupils' desks, 3,720 teachers' tables and chairs were distributed to schools and through the government's part of UBEC counterpart funding of N1billion, 3,123 textbooks in the core subject areas of  English studies, mathematics, basic science and social studies were procured and distributed to primary and junior secondary schools across the state.
Challenges
Our investigations, however, showed that children in the riverine communities, especially in Warri North, Warri South, Warri South West, Patani local government areas and even some in upland areas, still do not have easy access to education. Teachers deployed to riverine/rural areas bend the rules to stay away.
Despite the aggressive construction, many schools are still decrepit, while the infrastructure of schools used as camps for displaced 2012 flood victims have dilapidated.
Security
The headmaster of Oharisi Model Primary School, Comrade Vincent Eneyemo, headmistress of Ogele Primary school, Mrs. Theresa Bruegbo and a non-academic staff of Otovwodo Primary school, Mrs. Rita Oharisi, raised the issue of lack of furniture and porous security in the schools.
"After spending so much on these projects, it would be a waste if criminals and street urchins can just stroll into these schools unhindered to burgle and vandalize them," Eneyemo asserted.
Mrs. Bruegbo whose school has a staff strength of 55  and estimated 700 pupils said,   "We do not keep valuables in the offices,   as burglars consistently break into offices looking for valuables to steal and this include the remodeled buildings where some of the doors have been removed as well. There is no water to operate the toilets neither is there any form of electricity."
At Otovwodo Primary School, there is problem of water and both staff and pupils source water for residential buildings around the school.
Shoddy work by contractors
Comrade Eneyemo complained about the use of "plastic doors" for the six remodeled buildings on his school, adding,   "Comparing the doors and windows of the remodeled structures to buildings refurbished by the State Universal Primary Education Board, SUPEB, they can't secure the offices as they easily give way when little pressure is mounted on them. Right now, we had to relocate books meant for the library somewhere else because the library has been burgled. This aside, the quality of work done by some of the contractors is poor."
He suggested:   "There should be collaboration with the school management and the project contractors especially in the exposure of the Bill of Quantity, BOQ to us as this is the only way we can guide and hold the contractors accountable for their jobs."
"Right now, like beggars, we would accept anything they offer as we cannot even tell the supposed amenities in terms of electricity fittings and furniture attached to the remodeled buildings as required by the government from the contractors."
We derive comfort in remodeled classes – Pupils
For Ofejiro Akpobire, Mercy Uloho and Emmanuel Akposhire, pupils of Ogele, Oharisi and Otovwodo primary schools respectively, the beauty and comfort derived from receiving lectures in the remodeled classes in their schools overshadows the challenges encountered by the management of their schools. In their respective remarks, they said, "Aside from the furniture challenges, it is cozier and comfortable receiving lectures in the remodeled buildings compared to the old buildings."