By Olasunkanmi Akoni
LAGOS—Officials of Subsidy Reinvestment and Empowerment Programme,, SURE-P and the Federal Road Maintenance Agency, FERMA, popularly called Federal Task Force, yesterday, chased away operatives of Lagos State Traffic Management Authority, LASTMA, at old toll gate, along Lagos-Ibadan expressway and environs over control of traffic on federal highways in the state.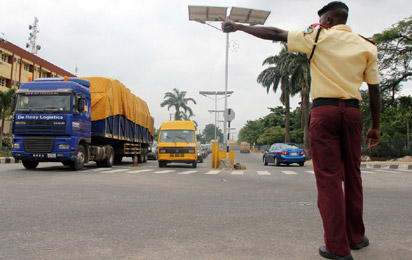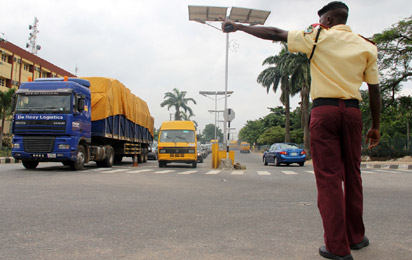 It will be recalled that a similar incident occurred late last year, but the prompt intervention of officials of Lagos State Special Task force on Environment and Special Offences unit prevented the situation from degenerating into major crisis.
This time, the SURE-P task force stormed the old toll gate area, along Lagos-Ibadan expressway, and asked the LASTMA officials to leave the road.
This action led to terrible traffic gridlock and commotion as motorists were stranded in traffic for hours, following the argument that ensued between officials of both agencies.
It was learned that the SURE-P task force, numbering about 100, stormed the ever busy road at about 11:00 am, accompanied by armed security men.
The situation heightened tension around the area as both government agencies engaged in near physical confrontation.
Calm was, however, restored as the LASTMA operatives were directed by their leaders to vacate the area immediately to avert possible bloodbath.
When Vanguard visited the scene, LASTMA officials were not present but the SURE-P Task force operatives, clad in black T-shirt, took over traffic control on the road, escorted by armed security men.
A LASTMA official, who spoke on condition of anonymity, told Vanguard that the SURE-P Task force men stormed the scene in the company of armed security men, to effect their sack.
State Commissioner for Transportation, Mr. Kayode Opeifa, who condemned the act, appealed to LASTMA officials to remain calm, saying appropriate steps would be taken to address the issue.