By Adamu Muhd Usman
"Leadership is not an occupation, leadership is not an art of fraud and pride. Leadership is not yours or mine, leadership is an attribute of God, leadership is the will of God, leadership is the choice of God, and leadership is a trust. Leadership is a burden. So, am fulfilled, contented and very grateful to God for giving the opportunity to serve the people of Jigawa diligently, honestly and heatedly."       ——Sule Lamido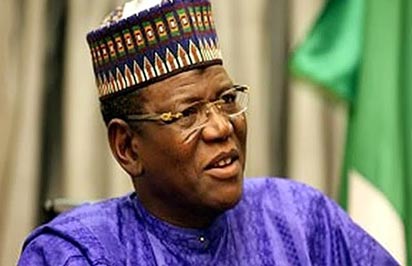 Many of the men who qualify to be called Founding Fathers of the ruling Peoples Democratic Party [PDP] have left the scene for newer entrants.
Many of them are now deceased while most of the remaining ones have quietly moved to the sidelines.
Jigawa State Governor Alhaji Sule Lamido is the lone founding father still on the landscape and his four decades of experience in the rough terrain of Nigerian politics is being brought to bear in this election circle.
He is so often in the news for a combination of reasons including his imposing physical presence, his simple style of doing things, his solid record of achievement especially since 2007 when he became the helmsman of Jigawa State and his fearless stance on all controversial national issues. Sule Lamido always says his mind, which in all cases aligns with the interests of the common man. He never succumbs to sentiments. He is not the fair-weather type as so many politicians are; rather he stands rooted in principle and to progressive politics. In all of this, he brings rich personal experience to bear in all he does.
Lamido loves elections and where many other governors try to avoid conducting local government elections by perpetuating caretaker committees in place, he organizes regular local government elections in Jigawa State every two years according to the state's Local Government Law.   Now that another general election circle is at hand, his sagacity is in full display.
He has deployed his unmatched energy and political skills in campaigning for PDP candidates from the top to the bottom. He organized an impressive state-wide flag off of campaigns during which all the candidates received their PDP flags. The campaign organisation then dissolved into local governments, wards, and polling  units. At every level key party stakeholders met and mapped out strategies on how to market the PDP's candidate and how to deliver the area to the party.
In this election circle, Jigawa State PDP draws enormous strength from Sule Lamido's tremendous record of achievements in office since 2007. All its candidates are hoping to ride to power on the strength of this record and the popularity of the party's state leader.
There is so much to point at that campaigning in Jigawa State has been free of insults and abuses. In every community and at every level PDP candidates can point to the   projects and policies that have uplifted the state and the community in terms of education, transportation, health, economy and infrastructure. This record of achievement is a tonic to aspirants. It is a source of inspiration.
The state-wide PDP campaign tour to the 27 local government areas led by Sule Lamido has been a model in peaceful and issue-based campaign.   No mudslinging, foul language, intimidation and violence. Why mudslinging when you have an enviable record of achievement to showcase? No wonder that the PDP campaign train was welcomed to every part of the state by huge and enthusiastic crowd of supporters and well- wishers. Huge crowds of people arrived at the rallies not only in cars, buses and trucks but many also came on motor cycles, bicycles, camels, horses and on foot.
It was against this background   that President Goodluck Jonathan and his large presidential campaign entourage chose to spend the night in Dutse after a rally. It was the first and only time during this arduous campaign that the President was passing the night outside Abuja. He decided to spend the night in Dutse in appreciation of the organisation of the state's party chapter.
Finally, he decided to spend a night in Dutse in order to honour a man who is a repository of political tact and wisdom. In short, the president recognised that Sule Lamido,   as the last of the party's   Founding Father, is still standing.