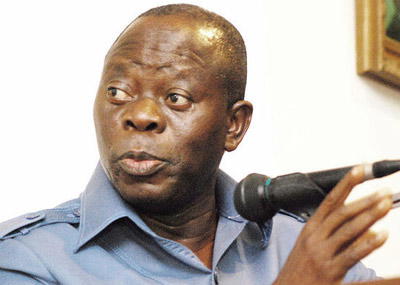 Comrade Adams Oshomole
By Simon Ebegbulem & Gabriel Enogholase
BENIN—Governor Adams Oshiomhole of Edo State has alleged that the Peoples Democratic Party, PDP, in the state has perfected plans to rig the forthcoming general elections on March 28 and April 11.
According to the governor, some PDP chieftains have allegedly made overtures to senior military officers to assist them in ensuring that PDP thugs were given easy passage during the polls to carry out their rigging plot.
Oshiomhole, said: "Politicians are already making contact with senior military officers under the 4 Brigade, asking them to assist their thugs in buying rubbers (arm bands) of various colours to distinguish PDP thugs from All Progressives Congress, APC, officials to have special stickers that would be used in identifying their people."
But the PDP in the state, in a statement by its Publicity Secretary, Mr. Chris Nehikhare, denied the allegation and accused Edo State Government of raising political tension in the state in what it described as "unguarded, careless and reckless statements unbecoming of a government and a governor."
Also, state PDP Chairman, Chief Dan Orbih, in his reaction, said: "If there is any person that has anything close to a uniform, it is the governor who is used to wearing khaki. I want to say that the statements of the governor are the last desperate expression of a drowning political actor.
"Having realised that Edo teachers have now rejected him, Edo judicial workers have rejected him, local government workers are rejecting him; the teachers and market women have rejected him; victims of his demolition exercise are rejecting him at the next election and victims of those whose landed property he wants to forcefully acquire, are also crying out louder rejecting him. Even the tax payers who have been made to pay multiple taxes have come to a conclusion that this election, they will use their voting power to say no to APC and Adams Oshiomhole.
"Governor Oshiomhole has quickly invented a story line to explain his inevitable defeat at the polls by accusing and giving reasons for his impending defeat, that PDP wants to use the army to rig the election. He should retract the statement. The statement is irresponsible and untrue."
Oshiomhole appealed to the military to resist being used to subvert the will of the people, saying, "I plead with you in the name of God, let your officers resist the overture of politicians. I know that in this state and in this country, we have had good elections. They probably weren't perfect, but many believed that they were a substantial improvement on previous ones."
He said the failure of the country to get her acts right on free and fair election had made her the butt of jokes even on the African continent.
He said: "Recently, I was watching Channels Television and I had mixed feelings when some people in South Africa organised a protest to President Zuma's office asking the South African Government to show interest in what was happening in the country. We ought to be their teacher because while they were being ruled on the basis of colour, we were regarded as a Frontline State. Young school children were asked to contribute money to get South Africa free. Today, South Africa now lectures us about democracy. So, we have stripped ourselves naked so that even children are beginning to peep at our private parts."
Speaking during a courtesy visit to his office, by Major-General Sanusi Muazu, the General Officer Commanding (GOC) 2 Division, Ibadan, Oshiomhole, said: "We will do our best to continue with the armed forces as an integral part of the state and we trust that you will ensure that the vote counts and that no selfish officer allows himself to be used to intimidate electoral officers."
In his remarks, the GOC commended the governor for his developmental strides and his support to the officers and men of the Nigerian Army in the state.