By Levinus Nwabughiogu
He is so passionate about tomorrow. And so, looking back, he discovered that not a healthy and solid foundation had been laid for a strong future. To him, the return of democracy in 1999 was supposed to be a catalyst for this greatness. But Nigeria failed to plan and work towards greatness. This is the view of Edo State Governor, Adams Oshiomhole, who was also former President of Nigerian Labour Congress, NLC, in an interview he granted journalists in Edo. Excerpts:
Some Nigerians believe that the south south which is where you belong is a region in the hands of PDP. Do you share that submission?
It depends on who you are speaking about. I am a Nigerian and I am well known Nigerian. I am not in the PDP and I will never be in PDP. Edo is the heartbeat of the nation and we are in the South-south. How can you suggest to me that this is a PDP zone? It is not. PDP has never won any clean election in the South-south.
Often times, they had taken advantage of the terrain and if you do your analysis very well in the voting pattern, you will find that PDP has always lost elections in the cities and they turn in ghost votes from the creeks but in Edo we neutralized their rigging machine as far back as 2007 and since then, we have won every election in this state and in the last election that was held here on the 14th of July 2012, I won in every local government.
It has never happened before and even the godfather, I defeated him in his village. So, how can you suggest to me that South-south is PDP zone? It is not. PDP has been an invasion in the south but we are repelling them now and they will be completely repelled on February 14.
How may you react to the calls for the postponement of the elections? Besides, this administration will clock 4 years by May. How would you assess its performance on the economy and some other critical sectors?
The constitution and the electoral act are clear on issues of election are to be determined by the electoral body, INEC, within the provisions of the law. The National Security Adviser, NSA, is not an official of INEC. So, how can we even entertain that comment from him that elections should be postponed? And if my observation is correct it will appear that this comment  was made outside the shores of Nigeria?
How appropriate is that? Should we hear from foreign lands the thinking of Nigerian public officers on serious issues of national interest? Should we hear it first through foreign media in a foreign land? I haven't seen people interrogate this because this thing about taking Nigerians for a ride must stop. Who is speaking for postponement? Only those who are facing imminent electoral defeat. They are the ones whether by themselves, their agents. There is no genuine Nigeria who is interested in peace and stability who wants postponement.
The second leg of your question is about assessment of this Federal Government in four years. You are wrong. This president has been in office for six years. I will try to be objective. It is not about APC or PDP now. As they say facts are sacred, opinion is free. I want to deal with facts so I free myself from the burden of subjectivity. What was the promise of the president about power 6 years ago?
We were told that by 2013 there will be full power supply, that they are carrying out major reforms then later they said by 2014. We are now in 2015; check the records both reported and official records of PHCN and you will find that about six years ago, we were using almost 4000mw; between 3500mw and 3800mw. Today, as we speak, the 28th day of January 2015 after the birth of our Lord Jesus Christ, power generation has dropped to 2.5 or thereabout after the government has spent billions of dollars. So,
I just deal with the facts and I will put the question to you. Has this government delivered on the promise with regards to power? I will leave the answer now to you? But we can take this question further in the context of the two political parties by revisiting the issue still on power. We take it back to using 1999 as base year. Between 1999 and 2015, is 16 years and playing back the promise of PDP in 1999, you will find in your tapes and archives, that someone promised that in about six months power will be fixed. It will be regular. The facts are stubborn. I was in NLC then.
I used to interrogate power so I know what I am talking about. When I say "interrogate power", I don't mean the electricity power, I mean political authority. It is 16 years now and PDP has no clue on how to fix power and they will never be able to fix power and because of all that I have seen, I have arrived at the conclusion that as long as PDP is in power, Nigerians will be out of power. Nigerians will never have power whether to run their homes or to run their businesses, whether poor or old.
Then let's look at some efforts that have been made in the form of reforms of the power sector. In the name of reforms, PDP has further deformed the power sector. There is a huge difference between reform and deformation. They have deformed the sector. Simple evidence. Just look at who bought what in the name of privatization of NEPA. Look at those who bought them in various parts of the country.
I can limit myself to Edo, Delta and Ondo. We are under one so called DISCO; one distribution company. It was sold to a retired banker and a pharmacist.  None of them has a history of having anything to do with power. The pharmacist is the chairman and the accountant is the MD. The chairman is the husband and the MD is the wife. So, Delta, Ondo and Edo Discos are owned by a family. That is not what you do with a critical sector which if you don't fix, you won't be able to create jobs. You are not going to able to look inwards and move away from import based to production based economy. It is not about miracles.
Then you look at kerosene, distribution of petroleum products. You know I have been very much involved in this. As we speak, everywhere across the country; I have travelled through several rural communities. But before I moved to this aspect because it is still within energy sector, let me divert.
Having handed over these assets to people who have neither the know-how nor the financial wherewithal to participate in power, and I know as a former member of the national council of privatization (I was a member as president of NLC), I know for a fact that the law provides clearly that to participate as a core investor under the privatization exercise of the BPE, you must have demonstrable experience in the sector in which you have expressed interest.
You must have know-how and you must also have the financial muscle so to do. Now what is happening in Benin? Everyday people are protesting that these private companies, with the backing of the federal government, are collecting what they call fixed charge from consumers such that even when you have no light for the whole 30 days of black out, you are compelled to pay a fixed charge of 850 Naira and some other people 1500 Naira if it is a business concern. Even when they deliver no light at all. It is only in Nigeria that public authority can allow the citizens to be so ruthlessly exploited. I don't know of any other country, not even Banana Republic, where you can tolerate that level of abuse.
You know we are very vocal but we can bear so much pain. Even worse is that the assets that the distribution companies are using are procured with tax payers money. Over the past 6 years of my assumption of office, we bought hundreds of transformers which ought to have been procured by this Discos and even this year. In the heart of Benin, we are distributing transformers to communities using tax payers money.
For private companies to collect fixed charges even when they haven't delivered, only in Nigeria that a public authority will allow its citizens to be ruthlessly exploited. So I close my case on power and I leave the judgment to you. Then we move on to another sector, kerosene. These are things that affect the ordinary Nigerian. We are not discussing the state of our airports. That is about those who are traveling by air.
Then you look at the job sector, you can't have jobs. It is not about tokenism, I mean talking serious economics. It is tokenism symbolic projects: SURE-P, you name it, pet projects. No. You really want to have labour intensive industries that people can add value. You are exporting your crude oil. I saw the Presidency saying they don't want to be exporting products without adding value but the core product of Nigeria is crude and we are exporting it in full.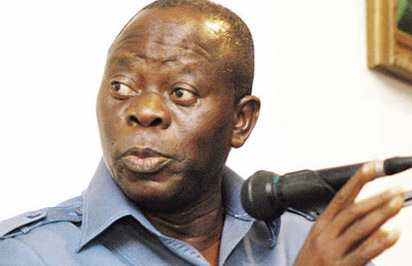 So, what that means is that we are exporting our jobs and importing unemployment. We are exporting prosperity and importing poverty and so your Kaduna refinery, your Port Harcourt refinery, your Warri refinery, you name it, 16 years down the road we don't have any refinery and yet, we visit the statement by successive budget speeches, they tell you so, so people have gotten so, so numbers of licenses but there is no refinery. I don't know which sector you want me to look at but my sector that I come from, the textile industry is dead.
If you live in Lagos, you know Ikeja is gone. Isolo is gone. Apapa is gone, all those warehouses where I used to organize workers are now been occupied by Pentecostal churches otherwise they would have been empty. Now in Kaduna we used to have about 30,000 workers within the area in Kaduna we call Kakure, in Port Harcourt we had Machalin and we had Dunlop in Ikeja. Where are they? Gone. Some have relocated to Ghana taking advantage of West African protocol to produce in Ghana and sell to Nigerian market. So, without industries where are the young ones going to work?
Let's go back to the issue of PVCs. To most people, it is still a big issue. Again Many Nigerians have this fear that an APC presidency will spend more time pursuing supposed or alleged corrupt public officer instead of developing the country, do you think this fear is justified?
It depends on who is talking but the first one don't brush aside the issue of PVC distribution. In any event, the number of votes that brought this president to office, how many people voted?
As far as I can recollect, it is about 24 million, quote and unquote votes, but those included ghost voters and I am speaking with every sense of responsibility where we are told that in some places 99.9 percent of registered voters came out to vote and we know of reported cases at least through the proceedings in tribunals where people who died somehow woke up to vote and then returned back to the grave. But even with those ghost voters, the total votes that brought this president and even the previous one was not more than 24 million votes.
Add that of Buhari, not more than 36 million votes. How many PVCs have been collected? In Edo state I scored about 75 percent of the votes in the last election where I won in all the 18 local government areas. The total vote I got was less than 500,000.
Now all those who voted in Edo were less than 600,000. Over 800,000 people have now collected their PVC. So, if the rest refuse to collect, you can't compel them but you can't stop those who have collected from voting, that is the law.  The law doesn't say that if the turn out in an election is less than than 50 percent of the registered, for example, that the election is not valid.
As far as I am concerned Nigeria is greater than any individual and we have to be careful. There are too many political vultures who are flying in the evening market wanting to mess everybody up and I think we must find courage to speak out and secure our democracy. It doesn't really matter to me who wins an election. It matters to me how people win it. If Nigerians want to put the gear on reverse, democracy will allow them to do so.
But honestly if they want to move on to gear five nobody should stop it and I guess people want to move to gear five. We have been too long at gear four. People want to move to gear five.