By Olasunkanmi Akoni Monsur Olowoopejo
Save for the cold hands of death, the words of Jarod Kintz, "Just to show my dad that I think he's number one, I bought him a…..cake for his birthday," could have been the words on the lips of the children of late Chief Molade Alexandria Okoya-Thomas MFR, FCNA, OFR, KSS, on June 7th, 2015. On this day, he  would have been 80.
The renowned Lagos based Philanthropist and business mogul, Molade Okoya-Thomas died in the early hours of Monday, February 2nd, 2015 at 79, after a brief illness.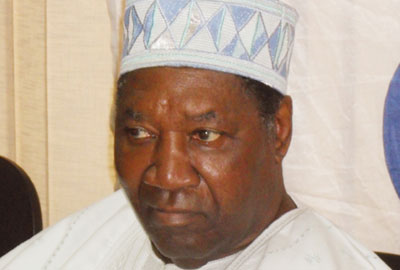 The deceased who suffered a form of illness late last year and survived it, was said to have suddenly developed hiccups late Sunday and could not come out alive. He died.    When Vanguard visited his Ikoyi residence, praise singers were thrilling guests to a sonorous music at the entrance of the premises to welcome them. Mourners filed-in their numbers to pay condolence to the bereaved family.
Since his death, dignitaries have continued to throng his No 131, Sinari Adaranijo residence, Victoria Island to share their fond memories with him.
Okoya-Thomas, until his death, was the Chancellor of Lagos State University and Chairman of CFAO, Nigeria Limited. He was the Asoju Oba of Lagos, Babasuwa of Ijebu-Remo, Odofin of Ife.
Okoya Thomas was born in Lagos on June 8, 1935 and passed on February 2 2015. He obtained his formal education at Princess School Lagos, Baptist Academy Lagos Balham and Tooting College of Commerce London and Columbia New York.
Early life and education
Okoya-Thomas   was born to late Hussam Okoya-Thomas (the first Baba Adinni of Furabay Mosque, Olowogbowo, Lagos. He was the first local staff of CFAO, a company he served for 52 years.
Sports and Philanthropy
Molade Okoya-Thomas was an active sportsman in his youth. He was a Joint All Nigeria Record Holder of 4 X 220 yards relay race while at Baptist Academy Lagos. He was the sole sponsor of the annual Asoju Oba Table Tennis Championships for over four decades, setting a record as the only Nigerian to have single-handedly and consistently sponsored a competition spanning over four decades.
As a philanthropist he similarly served as vice-chairman, Lagos State Sports Council, President Lagos Lawn Tennis Club, Chairman 3rd All-Africa Games Appeal Fund Committee, Chairman National Appeal Fund for Sports Development and chairman Sports Trust Fund. Molade Okoya-Thomas built and donated a Modern Sports Hall for students and staff of the Lagos State University (LASU) in 2009.
He was also a prominent member of the fund raising committee for the construction of Teslim Balogun Stadium in Surulere
The then Commissioner for Ministry of Youth, Sports and Social Development, Prince Ademola Adeniji-Adele announced the state governments decision to celebrate Molade Alexandria Okoya-Thomas at the age of 75, taking into consideration his numerous contributions, with the naming of the Indoor Sports Hall of the Teslim Balogun Stadium on 8 June 2010 after him.
Fashola mourns
Among the early callers was Governor Babatunde Fashola of Lagos State who took time out of his tight campaign schedules to condole the family of the deceased.
The governor, expressed shock and grief at the passage of the Asoju Oba of Lagos Okoya-Thomas, describing him as an epitome of humaneness and dedication to service.
Fashola said Lagos State was indeed lucky to be the home of the Late Chief Okoya-Thomas because the state felt his impact in various sectors, "especially in education, where he was, until his death, Chancellor of Lagos State University, and Sport, for which he was a great patron".
Saying that he would miss not only the elder statesman's wise counsel, but also his person and all he stood for.
He however had words for the widow saying, "On behalf of my family and the people of Lagos State, I wish to convey my deepest condolences and sympathies to you and your family during this time of mourning. My prayers are with your family in this trying time. Mama, I pray that God will grant you the fortitude to bear this heavy loss. May his soul rest in eternal peace".
Senator Ashafa mourns
Senator Gbenga Ashafa, who is representing Lagos East Senatorial District also expressed great shock at the sudden demise of Chief Okoya-Thomas describing him as a great man of valour.
According to the Executive Chairman of Honeywell Group, Oba Otudeko, "Chief was an embodiment of goodness. He was loving, genuine, caring and a Godly man."
Daughter speaks
Mrs. Tosin Alobo-Bakare, daughter of the late chief said "With gratitude to Almighty God, the comments are not strange. He (late chief) was a father to everyone. And I am very proud to have him as a father. He was specially made. He was sent into the world to make people happy. He spent his entire life to make people happy. And since his demise all we have heard were pleasant things about him. These have comforted us".
She said that the family was not mourning. "It is celebration of the good life that he had lived. He helped people until his death. He was concerned about meeting obligations and the needs of people. Before his death, he had people he wanted to help which he had informed me. He was thinking about other people. The last person he was thinking about was himself," she added.
On his forthcoming 80th birthday
"He was looking forward to his 80th birthday. He would have loved to celebrate his birthday. I was with him on Sunday and we discussed about it. He was planning to go back to work on Thursday when we expected to start planning the bash proper.
Last year, he went to inspect and book the venue he wanted to use  for his 80th birthday. He was looking forward to that birthday in Lagos.
We would be celebrating it posthumously
Also, Mrs. Jumoke Okoya-Thomas, his daughter and member of the House of Representatives, said, "We were all preparing for his 80th birthday. Even though he is dead, we will still organize a posthumous birthday for him. This was because he had worked on it before his demise. So he would want us to celebrate him on that day.
He was looking forward to the birthday so much and that was an indication that he was so passionate about it.  He just wanted to achieve that age.