By Gbenga Olarinoye, Osogbo
The General Overseer of Christ Worshipers Church, Osubi, Warri, Delta State has warned Nigerians against what could lead to   inter-tribal war .
Speaking at the church headquarters last Sunday, Dr. Prophet Samuel called on Nigerians to pray fervently against calamity that may befall the country as a fall out of the general elections.
He alerted that a plan was on going by some Nigerians going into a treaty "where by 30% of Nigerian resources would go to Iran, Lebanon and North Korea". He went on: "After this, the army would come and give the impression that they are protecting the people but underneath give tactical support to the Boko Haram insurgents" .They would go further to incite the soldiers against themselves, he added.
"The crisis and confusion would begin from the South-south region where brothers would be pitted against brothers. And it is this that would lead to the avoidable inter tribal war.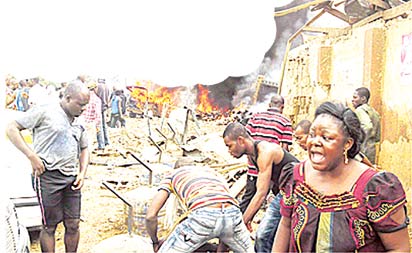 "So, we Nigerians should pray earnestly against any calamity befalling this nation. We should do everything within our power to ensure that we conduct these elections in an atmosphere of peace and tranquility".
It was a three-in-one celebration as the church did a thanksgiving service on Samuel's 50th birthday, launched a book titled, "The Trials of A Prophet-The Prophet D.A.Samuel experience" while the G.O. Received an award of recognition bestowed on him by the authority of the Christian Leadership University, Kaduna, Nigeria.
Presenting the certificate of recognition to Samuel, the Vice Chancellor of Christian Leadership University, Prof. Paul Akinwunmi, disclosed that the cleric bagged his Doctorate of Divinity Degree from the institution on December 6, 2014.
He added that this has made him to be admitted as a visitor in the Department of Theology and Spiritual Warfare in the university.
"It is this and his other contributions to humanity that the institution on behalf of Association of Christian Theologians decided to award him with the honour", he added.
At the launch of the book, the chairman of the occasion, Elder Kayode Adepitan, stressed the need to have abiding faith in God.
During the thanksgiving service, Samuel   recounted how some people he described as enemies had attempted to terminate his life a day earlier by firing   bullets on his car around Oluku area of Benin.