By Prince Osuagwu
SOMETIME in May 2014, a prominent businessman, identified as Chief Bright Igwegbu, was shot dead by gunmen at the Mile 2 area of Lagos. The bizarre manner in which Igwegbu was murdered heightened the need to heed the call that Mile 2 should be given a special kind of policing, having become a hot bed of crimes in Lagos. From the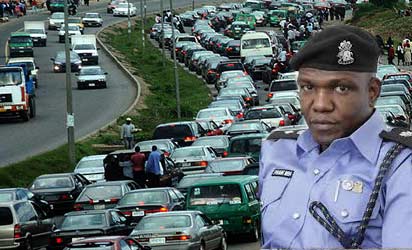 Orile-Badagary Expressway axis of Mile 2, gun totting criminals operating on motorcycles, snatch people's bags and rob indiscriminately.
Also, at the Apapa-Oshodi Expressway, particularly the Ottor Wharf end, noticeable street urchins, parading along the uncontrollable gridlock that builds around there, carrying locally made pistols, knives and sometimes wielding sticks and clubs, threaten motorists, smash windscreens and steal phones and other valuables at will.
However, immediately after the murder of Igwegbu, Lagos police swung into action. Within days, one could feel the presence of police all over Mile 2, particularly with several police vans and power bikes stationed at black spots.
Feeling of safety
Even though these vehicles and power bikes appear abandoned, Lagosians around these areas have begun to get back the feeling of safety. I was particularly having the feeling that someday, when a crime happens, Lagos will witness a NINJA kind of action where a policeman would drop from nowhere, jump on the bikes and give the dare devils a hot chase that will remind us that this is a mega City. But how wrong I was! Dead wrong indeed!
Last week, I was a victim of the opposite of my imaginations. Coming from a Nokia Network forum in Victoria Island on Thursday, I ran into the usual Orile-Mile 2 gridlock and just before Mile 2 bus stop, opposite Army Signal Barracks, the dare devils struck. They pounced on me trapped under the strap of my seat belt and began to ransack the car.
Time was 7.30 pm and just a few steps ahead, a stationed police motor bike was looking at us and some policemen were at the checkpoint. Since other motorists were so terrified to help, I figured that if I show some resistance and perhaps make some noise, there must be police presence in a jiffy.
It was all wishful thinking! The only presence of police was the illumination from the reflectors of the motor bike. There was no NINJA police to drop down on the bikes and the ones at the check point were too busy with the bus drivers to hear me.
The armed robbers won the duel. They made away with my Nokia Pureview 808 and other valuables. I was also left to fix my car which I rammed into another during the struggle. Honestly, I mourn my Nokia Pureview. It was actually my companion. I have deliberately delayed going to retrieve the line with a funny belief that it would somehow stroll back into my hands with every data in it intact.
But now, it has dawned on me that I may never get to see my Pureview 808 again. I will miss it dearly for what it gives. As a journalist, you would not want to leave home without your Pureview for its wonderful prescriptive text technology. You could write a whole lot in few minutes because Pureview thinks ahead and brings options out by the time you punch a few letters on the keyboard.
Apart from its clarity during a voice call, my Nokia Pureview 808 has an amazing voice recording ability and unbelievable play back voice clarity. The camera feature is incredible. Of course, you don't expect less than a 5-star camera performance from a device that spots 41 mega pixels. That is why it hurts badly when I remember that these miscreants are having a whole lot of my voice recorded interviews, family and event pictures and other saved data that mean so much to me.