By Levinus Nwabughiogu
Many may think that the Christian community in Nigeria is against the candidature of Major General Muhammadu Buhari (rtd), the presidential candidate of All Progressives Congress, APC, but the northern Christian Brethren spoke otherwise. It declared absolute support for him and dismissed the insinuation that he would Islamize Nigeria if elected president.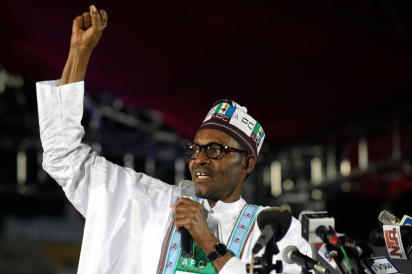 Upon his declaration as the winner of the primary election on Thursday, December 11, 2014 in Lagos, Major General Muhammadu Buhari (rtd), the presidential candidate of the All Progressives Congress, APC, while reading his acceptance speech, said it was time for Nigerians of all gender, ethnicity and religion to unite for the common good of the country.
But since Buhari made this clarion call, all hell seemed to have been let loose on him. In many quarters, Buhari, a Muslim, is seen as a ferocious religious bigot. This is against the backdrop of his no-nonsense stance on corruption. Attempts have been made to bring to front burner his tough statements on religion. And one accusation stands tall: he would Islamize Nigeria if elected president. For this, many Christians dread him like a plaque.
Many times, Buhari has tried to disabuse the minds of the people on his religious position. This is one of the reasons he has continued to choose Christians as his running mate since his entry into partisan politics.
In 2003, he picked the late Dr. Chuba Okadigbo, a south eastern Christian and former Senate president, as his running mate in that year's presidential contest. Another Christian, the late Ume Ezeoke, a former Speaker of the House of Representatives, also from South-east, emerged his running mate in 2007. After the two unsuccessful attempts, Buhari changed style. This saw him picking Pastor Tunde Bakare, a fiery preacher from South-west, as his running mate in 2001. But he also failed in the presidential election. Now, the thick-blooded Muslim has gone for a Lagos pastor,  also from the South-west, Professor Yemi Osinbajo, as his running mate in the 2015 elections that promise to be a keen contest.
Apparently, his affinity with Christians and pastors may not have paid off as it has regrettably appeared that religion and ethnicity, rather than finesse and sagacity, amongst other leadership qualities, have consistently played a role in the political leadership of Nigeria.
But times seem to have changed now for Buhari. He appears to have succeeded in convincing many Christians that he is not a religious bigot or a Muslim extremist.
Penultimate Thursday, over 400 pastors under the aegis of Northern Christian Leaders Eagle-Eyes Forum, in Abuja, endorsed Buhari's presidency.
The development came on the heels of a meeting between the Conference of Catholic Bishops in Nigeria and Buhari in Abuja penultimate Wednesday.
At the meeting with the APC presidential candidate, the pastors, who came from different evangelical ministries across the 19 states of the North, said gone were the days when religious sentiments prevailed on the choice of candidate, stressing that the nation had witnessed more backwardness than progress in the last four years.
The members of the group and their ministries include Pastor Paul Great, Methodist Church, Jos, Bishop Lawrence Awanorwo, New Creation School of Divinity, Niger State; Bishop Daniel Oboni, Christ Life Evangelistic Church, Bauchi State; Bishop MUSA Gomson, Unlimited Mercy and Glory Church, Gombe State; Apostle Abraham Babe, World Christian Mission, Taraba State; Paul Zumta, Alheri Baptist Church, Sokoto State; Rev. Sam Adejoh, Life Changer Christian Centre, Yobe; Rev. Daniel D. Gonzuk, Amazing Grace, Benue State; Rev. Emmanuel Edesiri, Destiny Path Assembly Int. Nasarawa State; Rev. Sunday, Divine Later Times, Borno and Pastor Ifeanyi Ikeji, Zonal Coordinator, Lord Chosen.
Talks on religion are over—Aminchi
The leader of the group, Pastor Habu Aminchi, 'shouted' massive support for Buhari. For over ten minutes he spoke at the occasion, he appealed that one of the first things the presidential candidate must do upon his assumption of office on May 29, is to declare a three-day fasting and prayer for Christians and Muslims.
"Mr. President-in-waiting, by the grace of God, and my humble Vice President-in-waiting, by the grace of God, I stand here as the leader of this forum. This forum was created in 2003 and, through it, we have helped many past administrations. We did a lot of things but what we are  passing through today makes us to make a u-turn", Aminchi said.
"So we decided as a forum and we realize that there is something inside General Buhari.  You know when your destiny is about to shine, some people would be pulling you down but what God says shall be, it shall definitely be. Today, this country, south, west, east, north, by the grace of God, with the support of everyone, we are calling all Christians to come out en-masse as we are declaring total support for General Buhari.
"Buhari, you are not wicked, but we make you to look wicked because of one thing or the other just to pave the way for others to go in. And after they have gone in, they will not even remember the vehicle that carried them. They would even want to destroy the vehicle. But, by the grace of God, the vehicle is still existing and God allows the vehicle to exist for a purpose and this is the purpose today.
"If you look at the records, in 2003, his Vice President at that time was a Christian; in 2007, he was a Christian. In 2011, he went and brought a pastor, even some of us pastors worked against him. But we thank God he has another one, Yemi. I don't know the meaning of that in Yoruba but your faith has carried a lot of power by attracting this group to declare for you.
"I want you to consider yourself as the President of Nigeria. This group has a large membership. A week to election, we are going to mobilize to make sure that the 19 northern states give you 85 percent and the
others the remaining 15 percent.
"If we can have those 19 states, we go to the South-west; if we get little, you just add it to what you got in the North and become the President of Nigeria and change will come. That is what we are looking at. We need a change. The forum said I should give you only one advice. By the grace of God, by the time you are sworn in as President, the first thing is to ask you to declare three days fasting and prayer for all Nigerians. Everyone, both Christians and Muslims should past and pray and the topic is, `God, have mercy upon Nigeria and restore our lost glory'".
I have no personal, religious agenda —Buhari
Buhari, in his response, took time to refute the allegations that he is a religious extremist and would pursue the Islamization of Nigeria if elected president.
He said: "The ruling government and PDP have adopted this sad, divisive and false narrative as their strategy to prevent the inevitable change that our country and people desire and require. And they have succeeded in making some of us victims of the tales which they invent, propagate and sell as gospel truth to gullible listeners, while it is all nothing but a tissue of lies.
"I would like to solemnly declare that in spite of what our detractors say, I am not a religious fanatic of any sort and I have never been. In all my life, I have never supported extremism of any kind, and nowhere in my record of service to this nation can this false toga, political opponents have tried so hard to put on me, be substantiated. Indeed, it is very unfortunate and I feel extremely sad that I have to give this type of assurance.
"My background is in the army, and there is no doubt that the military is the most integrated pan-Nigerian institution. And even today, the military is one of the institutions that represents the pride of our nation's possibilities in unity. Compatriots from every corner of this country come together, work and live together, entrust their lives to each other and integrate their families. It is a military where many of my dearest friends, from all faiths and parts of the country, lost their lives defending the unity of our nation. That was the military I served in, and in that military it was impossible to be a bigot.
"For me, the issue of religion was, and should always, be a matter of personal conviction. This personal conviction approach to religion has defined my work and interactions all my life, including my tenure in office as military Head of State. The religion of all those I worked with was never a factor in their progress or in what happened to them. All that mattered then, and should still matter today, are competence, integrity and readiness to be fair to all.
"I was recently informed that we had a balanced cabinet with key positions such as Finance, Energy and Defence occupied by Christians. In addition, 11 of the 19 governors I appointed were Christians. My most memorable recollections of subordinate service was under Christian bosses, the finest our country had then, and among the most respected today. Indeed one of the best appraisals I received in the course of my military career was from General T.Y Danjuma.
"Government has no business preferring one religion to the other. The role of government is to protect lives and properties of citizens and to respect and protect their constitutional rights."
He continued "Let me state this categorically, that I, Muhammadu Buhari, as an individual, and as president of this great country by the grace of God, given the opportunity to serve, have no personal religious agenda. And I will not entertain, consider or promote the religious agenda of anyone. I will not condone any initiative that seeks to promote one religion over the other. Neither I, nor my party, or any member of my team has any desire or plan to Islamize or Christianize Nigeria or support anyone with such intention.
"Although I am a practising Muslim, and I have been so all my life, I have never belonged to, nor shared the views of, any extremist group. I am not even a cleric. I believe that religion is personal and private. Most of my bodyguards are Christians. If I have not Islamized these people who serve under me, how will I Islamize the likes of Chief John Odigie- Oyegun, Ogbonnaya Onu, Governors RochasOkorocha, Kayode Fayemi, Rotimi Amaechi or Professor Yemi Osinbajo who is a senior advocate of Nigeria and a pastor? Or how will I Islamize Nigeria?
"Our constitution, which in many respects, is similar to the American constitution does not permit a state religion. The Sharia identified in the constitution is almost synonymous with customary law. It is only applicable in matters of personal status such as marriage, divorce and inheritance. This has been the case since the 1979 constitution. Just as no one can make any customary or any other religious law the law of Nigeria, so Sharia cannot therefore be the law of Nigeria.
"Wicked propagandists continue to spread vicious lies about me for political gain, including claiming that I once asked Muslims not to vote for Christians. This must be the height of absurdity. How could I ever say that, when whoever voted for me would be voting for the Christian running with me on the same ticket?
"And how could I ever say that of Christians when my own holy book, the Qur'an, tells me that in the entire world those that are nearest in love to me are those who believe in Jesus Christ [AS]? I ask, who, intending to win any election, ever does that? How can I choose southern Christian running mates [Chuba Okadigbo of blessed memory, Pastor Tunde Bakare and Pastor YemiOsinbajo] and with them by my side", he said.
Poverty does not know Christians or Muslims—Osinbajo 
Earlier, Buhari's running mate, Osinbajo, while making his remarks, said that poverty does not know Christians or Muslims. All he cared about was good governance.
"In our country, we are told we have a hundred and ten extremely poor people. Our country also is where 55 million women die every year of maternal related cases. We have one of the highest infant mortalities in the entire world and this is a country with abundance and a country with extremely poor people", he said.
"Poverty does not know religion, it doesn't know Muslim, it doesn't know Christian, it doesn't know Hausa, it doesn't know Yoruba or Fulani, poverty is poverty. It affects people the same way. The corruption is such that so much money that should be used to take care of the people are stolen"..
Others, including retired Major-General Paul Tafa, a former Commandant of the Nigerian Defence Academy, who spoke at the event that held at the International Conference Centre, ICC, Abuja, commended Buhari for his tenacity against corruption.
Bible gifts
The group donated Bibles to Buhari and Osibanjo.