By Yetunde Arebi
Josephine finally returned home, to her parents' last week after a three year long battle to save her marriage. It was no secret to everyone that her marriage to her childhood sweetheart had hit the rocks even before then. Yet, events leading up to their irreconcilable differences had not failed to shock everyone who heard the story, including yours truly. And once again, my fear for the social media platforms was confirmed. It is no place for the naive and ignorant.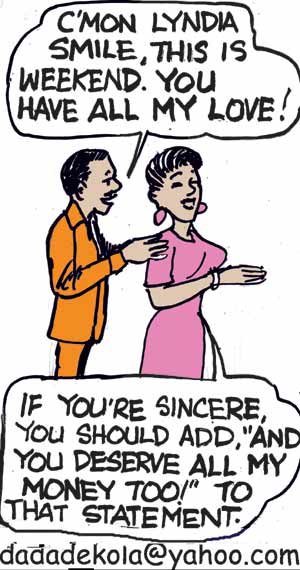 Josephine had met Tayo, at a party, right after graduating from high school. Theirs was love at first sight and Tayo had been literally swept off her feet. And which young girl wouldn't as Tayo, who already had a good job in one of the hip second generation banks and was already positioned to have a successful banking career.
He had almost everything to execute the duties of a perfect knight in shining armour. By Josephine's third year in the university, she became pregnant, sealing the fate of the relationship.   Though some thought it a bit untidy and careless of the lovers, especially because Josephine was a bit too young and inexperienced for marriage at 21, family and friends rallied round and the ceremonies were performed.
To the envy of many of her friends, Tayo bought a little Nissan car as soon as the pregnancy was announced and on resumption back to school after the birth of their baby boy, he replaced it with a Toyota CRV. On graduation two years later, he helped establish a business of her own, insisting that he wanted her to devote enough time to him and their children.
Unfortunately, Josephine was not able to conceive another child until she moved back home last week. What began as a happy love story has been ruined by insatiable and unchecked desires, fuelled by the internet. And no one suspected a thing until it was too late to salvage the situation.
Tayo had invited his unsuspecting in-laws to their home in Festac Town early one Saturday morning three years ago. He had refused to tell them of the agenda of the invite and insisted he wanted to spring a surprise on their daughter. But they became suspicious that the surprise might not be a happy one after all, especially when they arrived and met Tayo's parents, the officiating pastor at their wedding, and some other key family members and friends already seated.
The surprise was actually on Josephine who had no prior information that such a meeting had been scheduled. Without wasting much time, Tayo commenced the meeting and brought out heaps of printed papers to buttress his story. His pretty young wife had been cheating on him on the internet with another man. Tayo insisted that though his wife had not consummated the relationship with her supposed lover until that moment , he was convinced that the affair was not her first and that she would have done it, if the circumstances were different.
How did this happen? Tayo revealed that he began suspecting his wife of keeping secrets from him when he noticed certain behaviours about her. His initial thought was that she might have fallen victim of 419 activities in the course of her business, and did not want him to know. But later, he realised it was nothing that dangerous as she seemed to be enjoying whatever it was she was engaged in.
Though he found it difficult to believe, he suspected infidelity and decided to hatch a plan to find out. So, he created a new Facebook account and personality for himself and befriended his wife. The discovery of his investigations are the printed out papers. He revealed how his wife told him though she was married, her marriage was not a real one as she had been forced to marry him by her parents and he was a bit too old for her.
She told her virtual lover whom she assumed was resident in the UK, how she was tired of the relationship as he was not taking good care of her and she needed money to start a business of her own. He showed evidence of the Western Union Transfers he made to her and all the sex laced messages they had been exchanging between them.
He said she believed he arrived Nigeria the previous night and they had plans to meet later that same Saturday evening. It was indeed a bloody Saturday for Josephine and her parents. Tayo insisted that he had no plans to send her packing, but only wanted to let their parents, family and friends know that from then on, they were in an open marriage where each could do as he pleased.
Everyone knew what the outcome would be, even without him voicing it out. So, no one was surprised two years ago when he announced that a female friend had birthed him a baby boy. The friend turned out to be an older woman and senior banker who had even attended their wedding. The lucky lady had given up on marriage and was only keen on having a child of her own when Tayo offered to donate his seed.
As things turned out, three months after the birth of their baby boy, a visible pregnancy is already on parade while Josephine only has a 10 year old boy to show for all their years together.
I have seen Josephine twice since she returned home and I cannot but wonder what actually went down in her head that would have led her to venture down the path she went. It definitely was not hunger, poverty, idleness or neglect. A man sensitive enough to know that his wife was hiding something from him, can't really be guilty of neglect.
But perhaps, the sex was not pleasurable enough. It is not the number of times you have sex, the positions, or the intensity of the strokes that really matters. If the sex is not pleasurable or satisfying for both partners, then it might just be a waste of time and effort. And many Nigerian men are guilty of this. I am one of those who spoke in favour of Josephine at the time.
Since the affair was only on social media and not a physical one, then she cannot be totally culpable of infidelity. (wetin man for do? We must speak in favour of our own, a la Naija style) But Josephine is sure guilty of emotional infidelity and betrayal of trust. She is also guilty of defamation of character as everyone knows that whatever Tayo might be guilty of, it definitely was not lack of care and financial support.
But that is the way the cookie crumbles. Anyone who wants to cheat in a relationship often looks for excuses outside of themselves. What their partners did or failed to do is usually responsible for their roving eyes. Rarely do we find men or women bold enough to tell it straight as it is, "I desire you and would like to share some time with you"!
"I can't keep my pants on" or "I simply find you irresistible!" (Hmm! maybe that does really sound weird, right?) Tayo kept to his promise not to throw Josephine out of the marriage, but he never promised to keep her actions secret. He insisted that he believed his wife was never faithful to him before or after their marriage and that he did not trust her enough to believe that she would, even after the tension had gone down.
But for the sake of their child, he would remain in the union and she was free to also take her decisions. Josephine finally made her decisions last week, at least, for the time being.   Now that the pretenses are up, maybe proper interventions can now take place and the couple can be truly reconciled. After all, Tayo has taken his pound of flesh!