By Jacob Ajom
The conduct of a boxer is key to the success or failure of his career. This was emphasised Wednesday in Lagos by numerous resource persons at a seminar organised by Flykite Productions for a major boxing promoter in Nigeria, GOtv.
One of the resource persons, Effiong Nyong, a veteran sports journalist said a boxer must live within the rules of the game and above all subject himself to the laws of the land.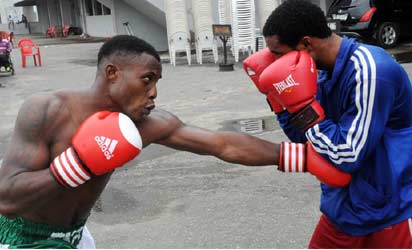 "A boxer is a role model," he said. "His conduct should be above board. He must not be seen at wrong places and should not be seen misbehaving in the public."
On his part, Jenkins Alumona advised Nigerian boxers to repackage themselves and be dressing well because, "appearance means everything." He counseled them to be consistent with information about them, especially their bio-data and be ready to give information on their records any time they were confronted.
Coach Joe Mensah, who said he has been associated with the sport since 1962 said a boxer must have a good coach, a good physiotherapist, a good doctor, dietician, a passionate promoter whom he described as the moneybag, among other backroom staff if he must succeed.
"Provided the boxer is talented and cool-headed, disciplined and determined, he has a good chance of succeeding," Mensah said.
The seminar which was aimed at preparing Nigerian boxers for future engagements, particularly international bouts.
Other resource persons at the one-day event included Obisia Nwakpa, Joe Lasisi and Dr Chike Ilukwe who spoke on Boxer/Manager relationships and Safety inside the boxing ring respectively.