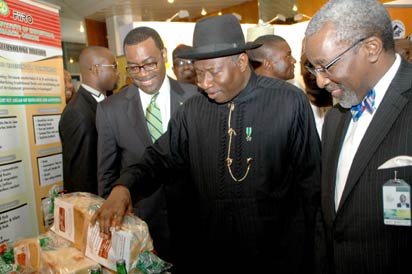 President Goodluck Jonathan (middle), Chairman, Board of Nigerian Economic Summit Group, Mr. Foluso Phillips(left) and Minister of Agriculture, Dr. Akinwunmi Adeshina, at the opening of the 19th Nigerian Economic Summit in Abuja, yesterday. STATE HOUSE PHOTO.
By OLAYINKA AJAYI
The Goodluck Jonathan administration has in the four years been in power.
Though there have been flaws, successes and giant leaps, it is sad that some Nigerians tend to focus more on the setbacks.
Interestingly, the Jonathan administration has been silently transforming Nigeria from its dark ages of underdevelopment to a 21st century economic and political force
So many sectors of the nation's economy have been touched by the administration, but the agricultural sector has been boosted and the perception that it is not just as a means of livelihood, but more as a business.
Over the years, the distribution of fertilizers has remained a racketeering business for some group of persons.
Overtime, farmers have had to lament the poor handling and management of the fertilizer distribution because past governments failed to nip the racketeering in the bud.
To corroborate this, the Minister of Agriculture and Rural Development, Dr. Akinwumi Adesina, lamented that between 1980 and 2010, the Federal and State governments spent over N873 billion on fertilizer subsidies.
He disclosed that out of this amount, Nigeria lost N776 billion to corruption and fertilizer racketeering within this period.
As a way of curbing the racketeering syndicate in the distribution of fertilizers, the minister said the introduction of Nigeria Incentive-Based Risk Sharing Systems for Agricultural Lending (NIRSAL) by the Central Bank of Nigeria (CBN) has de-risked lending to the agricultural sector.
According to him, under the GES, 4.2 million farmers have received seeds and fertilizer in the 2013 farming season, adding that about 20 million people have been impacted through the GES initiative.
Adesina said banks lent N3.5 billion to seed and fertilizer companies in 2012 under the GES for example, an amount that has increased to over N20 billion in 2013.
With this remarkable feat, Nigeria has reduced its food imports by over 40 per cent as of 2013, moving the country closer to self sufficiency in agriculture.
As a matter of fact, Nigeria is the world's largest producer of cassava with an output of over 45 million metric tonnes in 2014 according to the Food and Agricultural Organization of the United Nations (FAO).
The transformation from rustic farming to mechanized agriculture which requires empowering local farmers to adopt modern and cost-effective technologies is now vigorously pursued.  The Ministry of Agriculture is working towards engendering improved quality and distribution of fertilizers; marketing reforms; innovative financing and developing commodity exchange; research and development; competitive exchange rates; and development of storage infrastructure. These new measures are aimed at liberating the country from food insufficiency and making it a major food exporter in the nearest future.
Interestingly, the National Economic Management Team has unveiled an Agriculture Transformation Agenda (ATA) which has the capacity to generate over 3.5 million jobs. "To ensure food security and create wealth, 11 commodity value chains: rice, sorghum, cocoa, maize, soybean, oil palm, cotton, cassava, livestock, fisheries and horticulture, have been formulated as part of plans to achieve huge increase in production, starting from 2012," he said.
The government is also assisting companies to raise funds from banks to finance input purchase with about N30 billion earmarked for the programme in this year. In addition, government has agreed to pay 10 per cent achievement fees for companies meeting 100 per cent of supply of seeds and fertilizers to farmers.
As part of fixing the challenges in the sector, the Nigeria Incentive Based Risk Sharing System for Agriculture Lending (NIRSAL) is expected to leverage N450 billion from banks into agricultural value chains. Marketing Corporations are being established for selected agricultural value chains to coordinate the production, investments, grades and standards, market price stabilization, among others for selected value chains in Nigeria. These efforts are geared towards realizing the government's target.
To ensure that the target is met, the Agric Ministry has developed four key principles in executing the programmes.  The first principle called 'subsidiarity' touches every part of the country's agricultural value chain would   simultaneously. The second approach, involves working within a framework of strategic partnerships with the private sector, civil society and particularly farmers.  The third principle is to treat agricultural endeavour as an investment which must generate return like any other viable business, while the fourth focuses on using bottom-top approach to engender accountability and delivery of results in the entire programme.