BY MOSES NOSIKE
Chief Solomon Ogbonna is one Nigerian that can't do without art, culture and tradition. He advises governments to draw the world to Nigeria for tourism and economic boost through the trio. His vision and passion for artistic invention was an ancestral heritage from the art loving family of late Chief Aguene Nwinyinya Okorie of Umuchita-Uudomi village in Onicha Igboeze, Ebonyi State. He has 6,000 artwork collections.
Speaking on the development and benefit Nigeria stands to gain through Aguene Art Foundation, Solomon said, "without vision the people perish", quoting the Bible. "A man without vision is not capable of achieving any high enterprise, and he that has focus should not allow anything to distract him until he gets to his final destination".
This philosophy has helped him today to raise this art foundation that would not only anchor on preservation of the art, culture and tradition of the people but is bent on bringing development to the country and also making it a tourism site for all and sundry.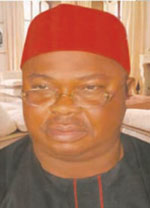 Art and culture are your areas of passion, has Nigeria tapped the accruing potentials?
Not at all. The only way we can harness potentials in art and culture is by getting people with passion for it. For instance, myself who has been in it since age 11. It runs in my blood since I took over from my grand father. I sweep with artwork, wake up with culture. It keeps me happy. I have travelled far and wide promoting art and culture. I have attended most expensive exhibitions on art and culture in Africa and Western world. Nigeria is still in need of a man who has interest for art, culture and tradition of his people to govern that area. I want you to understand that there is nobody anywhere in the world who can govern his people without understanding the tradition and culture of the people. You can't achieve much nor make a head way.
In every association, there is a culture, tradition and law. The law is tradition and culture that govern the people. You need someone who has the interest to govern that area; it could be a literate or illiterate person who is the custodian of those artworks and tradition. This was the case of ancient times, art, tradition and culture governed the communi-ties. Some of those communities were governed by stone, tree etc. in ancient days. Yet things worked well with them. Most of the killings and abominations we are seeing today were rare then.
What can we do to promote art and culture in our economic environment now?
All we need to promote art and culture in Nigeria is to honestly get someone interested in art and culture. For instance, if I'm the Minister of Art and Culture and I don't have interest in it, no love or I have been brain washed by the western world about our culture and tradition. Definitely there is nothing I can offer. The only thing I will do is to create an avenue of siphoning money. How many times has the minister of art and culture organised exhibitions for students of art and culture in Nigeria? How many times has the Ministry of art and culture organised a concert of traditional dances, not blowing whistle. There is what we call tradition, some traditional instruments that are played in midnights in some villages you don't play it in day time. Some are played in their ancestral homes. Nobody has thought of those areas to bring them to the public and exhibit and draw attention of foreigners interested in art and culture.
These are areas that can turn this country into a tourism environ-ment that can fastly develop our economy like other countries. Our hotels will boom, so many things will start booming and economy will pick up.
I have been to many countries for art and culture exhibitions. Little things Asian countries do as art and culture, I tell you all the aircraft were booked before time. You have to book a month or two before exhibition proper. But here nobody thinks about all those things. Art and culture are meant for Doctors, Professors but inborn intellectuals who know about the culture of their people.
How can you assess the leadership of President Goodluck Jonathan?
The President has done well compared with other candidates that emerged from APC for now. I don't know of tomorrow. Nigerians may find somebody better. From what we have seen so far he is better than other previous leaders. My only advice to him if he wins this time around, is to be careful of those he called his friends surrounding him if they are actually interested in Nigerians and his position.
In the area of youth development, how do you rate unemployment in the country?
Like I told you, the problem he has is those people around him who have hijacked resources meant for development and still feed him with lies.
So, if God permits him this time around, he should be careful with his aides, advisers etc. He should be a listening President to know what Nigerians need because there are a lot of Nigerians seeking for help but were denied because of those greedy people around him. This is the major challenge of Jonathan administration. Some positions some Nigerians should occupy are vacant and such is creating unemployment among our youths. Yes, I can number as much unemployed graduates in my local government alone that have not laid hands on anything since they graduated. Then get to other local           and states in Nigeria. All they get from government is promises without fulfilling any. It is a terrible situation. Certain people who are opportuned to be in government keep blocking other citizens from getting access to our leaders. Imagine as an art collector, I did one of the most expensive and valuable artworks to present to the President free of charge for all his efforts in the country, but his aides have been a stumbling block for over a year now.
As an art collector, self-employed, I have attended many exhibitions both home and abroad, earning well with artwork. So, if at my capacity I was not granted access to my President, imagine what happens to university freshers seeking job after some of their parents had trained them in hardship, some were even asked to pay money before getting appointment in some ministries.
Where do you expect a job seeker to get such big sum of money to offer before getting employment?
Your state, Ebonyi state, can you score your governor in terms of infrastructural development?
My assessment will start from age not being on his side. In terms of infrastructure,there is nothing to write home about in Abakaliki. It is quite unfortunate that our leaders have travelled to some of the best cities in the world yet they come home and nothing changes. Even to beat their chest and say let me build a relaxation centre. Nothing like that.
They don't emulate or learn from abroad because it is said that travelling is part of education. No good roads, no empowerment schemes, not even housing projects for common people who find it difficult to provide shelter. I have not seen any development in Ebonyi state that can motivate me to support his continuity. So if there is development you can talk about continuity but when there is none, you look for change.