The ambition of Senator Ifeanyi Okowa, Delta State PDP governorship candidate, received further boost when royal fathers, leaders of Anioma Congress, and Izu Anioma at an interactive session in Asaba, asked other zones to support Okowa's candidacy. The Organisation For the Advancement of Anioma Culture, OFAAC, hosted the session.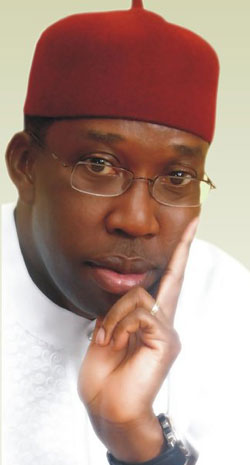 Arc. Kester Ifeadi, President, OFAAC in his welcome address thanked the people and called on them to rally support for Dr. Okowa, as he is the link to bridging the ethnic divide in Delta State. He said that he has followed Okowa's achievements over the years and he had demonstrated excellent administrative qualities and legendary commitment to the progress of Nigerians.
Speaking further, Ifeadi said, "This is not the time to ask for what will be done for us, but what will be done to ensure victory, so as to deliver prosperity for all Deltans". He called on Deltans to queue behind Okowa irrespective of ethnicity or creed.
The Asagba of Asaba, His Royal Majesty, Obi Prof. Chike Edozien, in his remarks, posited that Senator Okowa has always been known as a forthright politician, who does not promise what he cannot do. He emphasized that his prosperity agenda will definitely yield good dividends of democracy for the people once he is voted into office.
The Asagba, who was represented by Chief Nicholas Chizea, said that Dr. Okowa's political antecedents and humility stand him out as the best candidate for the office of the Governor. He urged the people to give maximum support to ensure his victory at the poll.
The Obi of Ubulu-Unor, His Royal Majesty Obi Kikachukwu stressed the leadership qualities of Dr. Okowa which have endeared him to all Deltans He then urged the people to go out and collect their Permanent Voters Card, PVC.   Her Royal Highness, Obi Martha Dunkwu, Omu Anioma, said she would mobilise women groups across Delta State to support Okowa.
In his response, Senator Okowa thanked the royal fathers, Anioma leaders of thought and OFAAC for all their support. He said he was proud of OFAAC's, activities in propagating the culture of Anioma people and acting as unifying factor in Anioma.
"At this point in the life of our State," Okowa said, "we need a governor who can talk about the strength we have as a people which is our unity in diversity". He envisioned the annual Anioma cultural festival being staged with festivals in other parts of the State for an annual carnival to enhance unity and tourism development.
He pointed out that government has its challenges but with commitment from everyone, the challenges were surmountable.  He mentioned youth employment, agriculture, skill acquisitions, to stimulate development of rural communities among his priorities.
Okowa was accompanied by Prof. Sam Oyobvaire, Chairman Campaign Organisation, Chief Clement Ofuani, Secretary, and Dr. Joseph Otumara, Director-General PDP Delta State Campaign. He urged the people to continue to build bridges as that will aid performance while in office.