Rivers State Peoples Democratic Party, PDP, governorship candidate, Chief Nyesom Wike, has described claims by the Rivers State Government and All Progressives Congress, APC, governorship candidate, Dr. Dakuku Peterside, that he (Wike) cloned the APC blueprint as an admission of Governor Rotimi Amaechi's failure.
Wike, in a statement by his media aide, Mr Simeon Nwakaudu, said: "This allegation is an admission of the failure of the outgoing administration of Governor Rotimi Amaechi and the need for the Rivers people to vote Wike to redefine development in the state and enthrone a new Rivers State.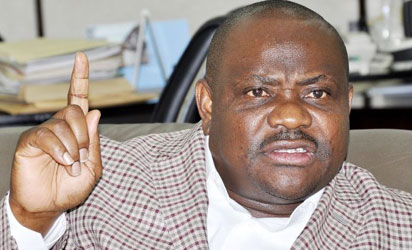 "Titled A New Rivers State, new vision, new thinking, better possibilities, the Wike blueprint is expected to guide the incoming administration in addressing developmental challenges that have crippled the state.
"As we have said in the past, Rivers people should pity Rivers State Information Commissioner, Ms Semenitari and Dr Peterside as they are swimming against the tide. It is obvious that the release of the PDP governorship Development Blueprint has further devastated the already confused APC camp. The APC is jittery because of its impending loss on February 28.
"For the avoidance of doubt, the Wike blueprint is a product of research, consultation and intellectual resourcefulness. The blueprint highlights the necessary steps to be taken by the incoming Wike administration to improve the fortunes of Rivers State in key sectors of the state's economy destroyed by APC's planlessness and regrettable corruption.
"The outgoing Rivers State Government's endorsement of the Wike Development Blueprint is a confirmation of what our researchers discovered in the course of their work. It is also a proof that Amaechi deliberately mismanaged about N5 trillion that accrued to Rivers State under his watch. Rivers people are tired of the falsehood being peddled by the APC and they are eager to formally authenticate their preference of Wike as their incoming governor."