"And it happened, when all who knew him formerly saw that he indeed prophesied among the prophets, that the people said to one another, 'What is this that has come upon the son of Kish? Is Saul also among the prophets?" – 1 Sam 10: 11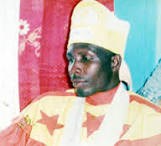 The other day, I met with ex-militant leader and founder of the defunct Movement for the Emancipation of the Niger-Delta, MEND, Government Ekpemupolo, alias Tompolo, who is a high chief of Gbaramatu Kingdom, Warri South-West Local Government Area, Delta State and he sounded quite ecclesiastic.
I asked if he was a Christian, Muslim or a Pagan,  he said: "As I am here, I am a Christian, Muslim and a Traditionalist, three in one, yes." He challenged me on my claim that you cannot worship God and Mammon at the same time, saying, "That is not true my brother. If you come to the shrine of Egbesu, we have the seven Bibles, both new testament and Old Testament, and so any area that you come from, we will confront you, we are the owners of the Bible."
"The rules and regulation of Egbesu is truth. If for example somebody is ruling this state, stealing all the money and one pastor comes up and ordain the person, saying that he is the only one that will rule the state, whereas they know that what the man is doing is not right,  is that the  God of Israel?" He said.
One of his close aides confided in me: "Tompolo is an ordained evangelist of the Cherubim and Seraphim Church, he preaches the gospel. He prays every day, he is a pastor. He prays before he leaves his house and when we are flying, he would insist on prayers."
Just like the people were confused about Saul, I was also confused about Tompolo, but we agreed that the matter should be for another day. I will surely keep you posted when we meet again