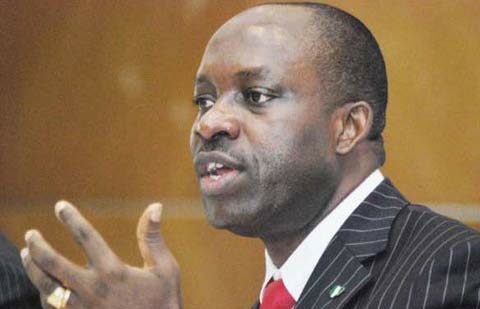 Prof Soludo
By Henry Umoru
ABUJA- PRESIDENTIAL Campaign Organisation, PCO of the Peoples Democratic Party, PDP, Monday described former Governor of Central Bank of Nigeria, CBN, Professor Charles Soludo as a confused Nigerian and one who has lost touch with reality.
According to the Campaign Organisation, President Goodluck Jonathan will not only run next month, but would win the polls.
Responding to attack on  President Goodluck Jonathan by Soludo that he should stop campaigning as he has no testimonial to parade, Director, Media and Publicity of PDP Campaign Organisation, Chief Femi Fani- Kayode in a statement to Vanguard, Monday noted that the former head of the nation's apex bank may no longer understand what were on ground having spent much time with those in the camp of the All Progressives Congress, APC.
Fani-Kayode said, "I read Charles Soludu's contribution to the debate with amusement. I will be gentle with him because I have a soft spot for him. He has criticised the President, his government and his handling of the economy.
"Meanwhile Nigeria has just won the prestigious award of being designated as the largest economy in Africa and this has happened under the watch of President Goodluck Jonathan and no-one else. Should any right-thinking person who has the nation's interest at heart be complaining about that? Needless to say my friend and brother Charles Soludo is confused and conflicted. He seems to have lost touch with reality and this is what often happens when you spend too much time with the Buharists.
"The truth is that Soludo is far too educated, civilised and advanced to be in the opposition. He belongs to the modern age and not the dark ages. I pray that sooner than later he comes to his senses and he sees the light. One thousand Muhammadu Buhari's cannot match one Goodluck Jonathan in terms of tolerance, compassion, performance or output. Buhari cannot even begin to understand the complex nature of the economy or the immense problems that we are facing in this country whilst Jonathan not only understands them but is also making a gallant effort at solving them.
"I respect Charles Soludo immensely but I believe that he got it quite wrong here. He is in error and he needs to sit up, reconsider his views and review his unsavoury and disrespectful contribution.
"To say that the President should not run in this election and that he should throw in the towel is absurd and self-depreciating. It is a manifestation of the morbid fear of failure and defeat that the leaders of the opposition are all suffering from. Whether Soludo and his friends like it or not, not only will President Goodluck Jonathan run in this election,  but he will also win and he will do so convincingly. "
Read Soludo's bombshell, Buhari vs Jonathan: Beyond the Election, by Charles Soludo