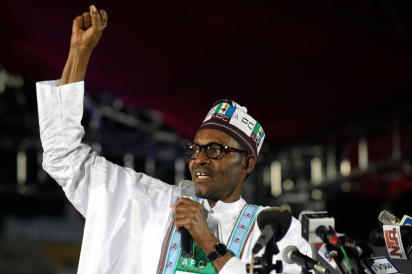 By Jimitota Onoyume
The presidential candidate of the All Progressives Congress, General Muhamadu Buhari (rtd), flagged off his campaign at the Adokiye Amiesemaka Stadium in Ikwerre local government area of Rivers State with an assurance that he would tackle corruption and the challenge of insecurity plaguing the nation.
Buhari, who spoke to a mammoth crowd of Rivers people, lamented the negative impact of corruption in the nation, promising to roll out a strong and vigorous crusade against the monster.
The APC presidential candidate also assured that he would assemble a team of credible professionals to evolve measures to redress unemployment in the country, promising to create jobs for teeming unemployed Nigerians.
"I will ensure that there is no room for corruption and insurgency in the country'', he said.
''Everyone who has attained the age of 18 should go and get his or her PVC, to be able to vote. APC which is the best choice for the expected change in the country.
''The fundamental issue facing this country is insecurity and the problem of economy made worse by corruption.  I assure you that we are going to assemble a competent team of Nigerians to efficiently manage the country. The damage done to this country is great.  The level of unemployment, level of insecurity is intolerable.  The journey has begun. It will take time, it will take patience, it will take support from you to make sure that we succeed".
Others who spoke at the rally were the Speaker of the House of Representatives,  Aminu Tambuwa; the National Chairman of the APC, Chief John Odigie Oyegun; and the Director General, Buhari Presidential Campaign Organization, Governor Chibuike Amaechi. They all called on the people of Rivers to vote for the APC, saying there was urgent need for change in governance.
Tambuwa took time to lambast the PDP, saying it had failed Nigerians.
"I am impressed by what I am seeing here today.  This is a clear testimony that Rivers and indeed the good people of Nigeria will come out en masse and overwhelmingly vote the candidates of the APC,'' the Speaker said.
"When I defected to the APC, many people were surprised, wondering how could I leave a ruling party for an opposition party? On the privileged position of the Speaker of the House of Representatives that I presided over for three and a half years, we oversighted the current government and what we saw and what we are still seeing is mind-boggling and, from the information available to us, we don't deserve the current type of leadership that we have at the centre; Nigeria deserves better leadership as is, by the grace of God and will be exemplified by General Muhammadu Buhari. His records speak for him".
Amaechi spoke on his success in Rivers, noting that alleged plots to sack him as governor failed.
"Today, I am governor by the grace of God. Today, I have stayed in office till 2015. This time last year, those who thought they were god thought we would have been out of office. This time last year, men had collected money to remove us from office but the God we worship never allowed it to happen,'' the governor said.
''Now they are the people struggling.  We told them that there will be a time like this, when they will be looking for our votes.  Now I want to thank all of you and thank Rivers people for accepting to make me your governor.
''You will agree that when we came, we addressed insecurity.  You will agree that in the past, we could not have had our rally here.  We are gradually going back to that.  I hear today that members of APC from Asari-Toru local government area and from Khana were shot at on their way to this place.  The PDP believes in gun, we believe in God and man.  The argument we have put forward is that currently the government in power cannot protect you and I.  If the government could protect you and I, why were they shot at, who bought guns for those people who shot at our members?
''Today is not my day.  Today is the day of General Muhammadu Buhari and Prof. Osinbajo. It's their turn to tell you what they will do for Nigerians.  All I will assure you is that as your governor, I will continue to stand by you".
Buhari spoke to Ogoni stakeholders two days later at Sakpeenwa, headquarters of Tai local government area of Rivers State, promising to implement the United Nations Environment Program recommendations on Ogoni. He added that he would complete the Bodo-Bonny Road project if elected president.
"The decision of the Federal Government to abandon the Bodo-Bonny road project is a clear case of incompetence and social injustice. It amounts to neglect at the highest level. A lot is taking from Ogoniland and relatively, a little is brought back in return. I assure you that an APC-led Federal Government will fulfill all its promises in Ogoniland", he said.