WHat was 2014 like for the industry from your perspective?
Looking at Apapa last year, it has been terrible if you talk about the movement of goods.  There have been disputes between personnel as well as strike, particularly in Apapa Port where cargo was so difficult to clear, there was shortage of cargo clearing equipment and available once were malfunctioning. In some cases, importers and their agents could not find their containers.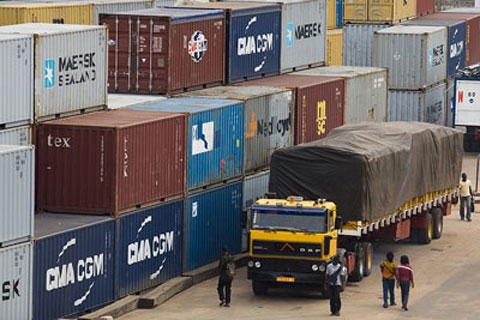 Then the road itself leading to Apapa was something else. The Tin-can/Mile 2 Road was totally blocked and Julius Berger working at a slow pace also contributed. We end up seeing Apapa raking in very low income.
I don't know where the port authorities and some others are having their income but for Customs, I know they are over billing, high benchmark for duty payment so they could collect more revenue.
Cement import
But for Nigerian Ports Authority, NPA, vessels and cargo throughput reduced, the business generally reduced, we also experienced the ban on cement import that also brought down the number of ships coming in but nevertheless, there was a very good improvement in Nigeria with the ban of cement.
We also witnessed the reduction in the cost of cements to between N1000 to N1200, which is very good. But let us go back to Apapa as the main seaport in Nigeria, most of the roads have failed, the export rate is terribly low because the freight rate is high. Ships come in and don't have access to discharge before embarking on their return trip.
I am collating a document to prove this fact, but look at vessels coming in and going out, you will find out that the number of vessels that came in last year are not as much as that of 2013. But what interests me so much, even if the goods come into the port, last three years (2012) we were fighting to decongest the port, now we have not come to that but with the rate we are going, as soon as business kicks off we might end up having congestion. They cannot go out because of bad roads, bad infrastructure, even coming to Apapa with cars, sometimes it takes us four hours. One of the outlets has totally failed.
I feel the federal government should take the reconstruction of the roads as a priority and look at how possible we can improve the infrastructure in 2015, particularly road so that goods could be moved freely.
Was there increase or decrease of attacks on vessels at the water fronts in the ports in Lagos?
There is a great improvement on the issue of attacks on vessels. Last year we had a few cases, the military have collaborated with Nigerian Maritime Administration and Safety Agency, NIMASA and they have done a lot particularly in Lagos waters. We had one or two cases, but I think in the last few months of 2014 we did not record any serious attack. Although Captains of visiting vessels were also advised to keep a reasonable distance away so they can be free but a good job has been done by NIMASA.
What was the major problem faced by the sector last year?
Power in the last few months have actually improved, the system has improved a lot. The greatest challenge is that we have too many authorities, too many people looking at just one issue, so it makes the whole process tedious.
There has always been this accusation from Customs of insincerity of the part of importers and their agents in their declaration, resulting in delay of cargo clearance from the port. Do you agree with this position?
I don't think it is because of insincerity on the part of importers that causes delay in cargo clearance. I would say it is like you have two or three officers, the officers themselves don't trust each other and they always feel like the other officer is making a deal. If not, there is no need for the cross examinations. And we pay for the loss, the government agency does not think about the importer. Before they find out that the importer is right, he will keep on paying the terminal charges. That is another thing I will like the government to look at because the importer is like a criminal.
Everybody wants to kill him. In a case like this, if someone in the United States of America, USA imports a wrong chemical, the government agency will fight for him to make sure that this man is not punished. Our own is not like that, the importer does not know what he is given. The importer doesn't have anybody that will fight for him. So someone has to fight for him.
If you have to advise government on the way forward for the maritime industry this year, what will it be?
If you want me to give an advice to the federal government for the New Year to the maritime industry, it will be the roads, there are bad. I think we should also look at the railways. Apapa has been blessed with good railway facilities, we should be able to develop and use the railways. We should also look at the clearance time of goods from the ports because the business is all about speedy clearance of goods. If I sell more goods as an importer, I will go and get more. Another thing that just happened now is that the naira is devalued and we don't know where we are heading to. We know the government is doing a lot of work; a lot of indigenous production will go a long way to help our nation. I government putting its foot down and saying; look we want three private refineries.
The governor of Akwa Ibom State building a standard stadium did very well and it makes me happy. I feel it will have been better if he had used that space to build a refinery because it would bring more income as it is an oil producing state. If the government can look at industries like that, Nigeria can get up to 10 refineries and then we can say let us leave the importation of petroleum products. That is the way I look at it.
Another issue I will like to be addressed is the sensitization of government agencies because like I said before, government agencies are looking at the importer like a criminal.