By Gabriel Olawale
The Acting Chief Medical Director, Lagos University Teaching Hospital, LUTH, Idi Araba, Lagos, Professor Chris Bode, says only the enactment of a policy that will outlaw strikes by unions or groups of workers in public health sectors in the country.
Bode, who give this recommendation during a situation update of the current health worker strike embarked upon by the Joint Health Sector Union, JOHESU, said except such policy is put in place and rigorously implemented, the spate of incessant health sector strikes would continue unabated.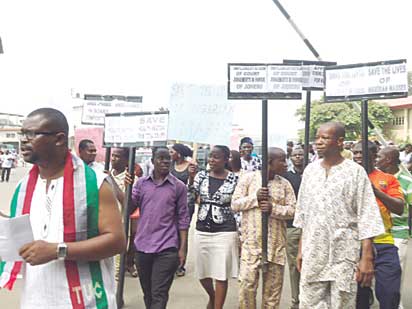 In his view, the season of strikes witnessed in the sector has persisted because those meant to cater for the sick are not identifying with the sensitive nature of their profession which has to do with life and death.
"Appropriate legislation is the only thing that can mitigate all this unnecessary strike action by one union today another one tomorrow. if we as a Nigerians say from now on healthcare which is an essential service should only be a sector where those employed by government cannot go on strike, if we make such legislation only those that interest in that will remain, but it is for us as a Nigeria to make such legislation, to form ourselves into pressure group, until we get such legislation and it become binding on everybody.
"How will you feel if your house catches a fire and you call the fire brigade and they tell you they are on strike? It is the same with the Police. It is the same thing with healthcare even if not bigger because we are dealing with saving humans," Bode stated.
Appealing to JOHESU to call off the strike, the CMD noted that some of their demands have been taken care by government and would be implemented soon.
"The striking workers should please consider things that as suffered set back as a result of the strike embarked upon. The good thing about what is happening is that government as responded to most of those things they requested for; the Yayale Ahmed Committee Report was meant to solve the problem in the sector.
Every Teaching Hospital and Federal Institution were instructed to submit the names of those that due for promotion and allowances that are yet to be paid have been capture in 2015 budget. We are just appealing to them to resume work and wait because things cannot be done in hurry.
Bode however hinted that despite the strike, skeletal service still go on in the hospital. "In LUTH we operate skeletal services at the Accident and Emergency unit. The Intensive Care Unit is still open because we still have one or two patients there that we cannot abandon, our eyes centre still see patient, our outpatient clinic is still been visited by patient who required care.
Our private wing is also working, some of our laboratories are open and doctors are not on strike, they have been working with other members of staff.
"The hospital will do its best to serve as many people as they come. The issue is that many people are coming not coming but there are enough staff on ground to take care of patients when they come.
It is a passionate appeal based on the fact that too many people are suffering; work is not going as expected. Nigerians have nowhere to go. The striking workers should consider all those things that have suffered setback and call off their strike," he added.