By Ben Agande, Abuja
President Goodluck Jonathan has blamed the non-rescue of the abducted Chibok girls on external forces, promising that his administration would do everything possible to end the Boko Haram insurgency in a matter of months.
The president spoke, yesterday, at the palace of the Shehu of Borno where he had gone to pay homage to the traditional ruler.
According to him, after ending the Boko Haram insurgency, his administration would rebuild the affected areas.
Jonathan stated that, with the use of initiatives like Victim Support Fund, Presidential Initiative for North-east and Safe School Initiative as well as  increased budgetary allocation, his administration will rebuild and redesign Borno State in such a way that children will have access to education and better future.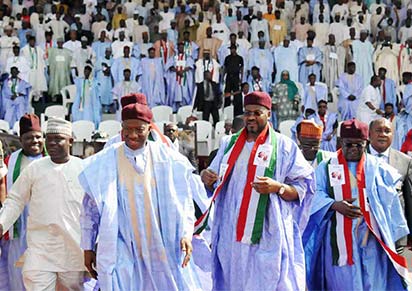 "We feel the pain of Borno people. I personally feel more pained when people accuse me of of being involved in the problem for some political advantage. I have said it many times that my ambition is not worth the blood of any Nigerian. And I don't think any president or human being can do what they accuse me of doing,'' the president said.
"The Boko Haram problem is what I thought we would have ended long ago but may be external influence or interest is affecting us. I am assuring you however that it won't take us more than a few months to end this insurgency and restore peace in Borno.
"Our people must return to their communities. Insha Allahu, we will get our Chibok girls back''.