BY JUDE OPARA, Abuja
With barely two days to kick off of the 2015 African Cup of Nations (AFCON) championship taking place in Equatorial Guinea, former Super Eagles striker, Mutiu Adepoju says the mere thought that Nigeria will not be represented makes him lose sleep.
Adepoju told journalists in Abuja yesterday that the miss is even more regrettable considering the fact that the Super Eagles are the defending champions of the continental tournament.
According to him, Eagles' ouster speaks volume of the state of Nigerian football because the country was also absent at the 2012 edition when the same Equatorial Guinea hosted.
"I am very sad that we are missing out and I feel that anybody who truly loves this country will equally be angry because a country like Nigeria is supposed to be at every edition of the AFCON but that really shows that all is not well with our football.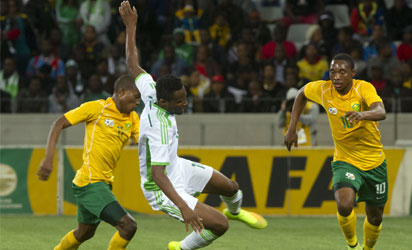 "One other bad thing about this failure is that it is going to affect our players adversely because those who would have been spotted by bigger clubs have lost that opportunity while those that would have been enhanced their rating on the account of their displays have also lost out".
'The Headmaster' as he was fondly called by his fans in his playing days while reacting on the visit of NFF officials to the championship on the invitation of CAF said there was nothing wrong with that even as he added that it would have been better to go there as participants and not as mere guests.
He however advised that the country should take the positives from the miss by putting in place those structures that will make it easier for the team to not just qualify for similar tournaments but to also excel in them.