Urges Nigerians not to panic
To encourage industries for export
By Omoh Gabriel, Business Editor & Peter Egwuatu
Lagos—The Central Bank of Nigeria, CBN, yesterday threatened to suspend banks that help in fueling speculative demand of foreign exchange, forex , just as it pledged to support the productive sectors of the economy in its resolve to diversifying and grow the economy.
The CBN said that Nigerians should not panic as the fiscal and monetary authorities are on top of the current crude oil price crisis.
CBN gov assures
The Governor of CBN, Mr. Godwin Emefiele, who spoke at a breakfast meeting with captains of industry and critical stakeholders in Lagos said There is "need to moderate demand. No need to panic and front-load demand for foreign exchange. The CBN stands ready to meet genuine demand and stop speculative demand for foreign exchange. CBN will not hesitate to suspend dealership licenses of banks fueling speculative demand and involved in forex malpractices as well as infractions.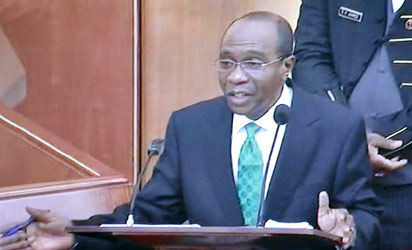 "We are monitoring the market to watch liquidity and would intervene when necessary. We have reserve of $34 billion at the moment and we will ensure that the reserve will not continue to go down but rise."
The apex bank also assured Nigerians that it is monitoring development in both oil and non oil sectors of the economy and will continue to take appropriate measures aimed at addressing liquidity and external reserves, and urged Nigerians not to panic.
Emefiele continuing his address said "We stand ready to defend the naira, foreign reserves and encourage export. We cannot allow market forces to determine the value of Naira because we are an import dependent nation. By the time we diversify our productive base and become less dependent on import, it is then we can allow market forces to play its role of determining the price of Naira. If we allow market forces to determine the value of Naira now it will halt the economy and the ordinary Nigerians will suffer. There should be a paradigm shift as we cannot continue to import everything we need".
Commenting on some of the apex bank intervention in the financial market, the CBN Governor said "We have recapitalised the Bureau de Change, BDC. This was done in order to streamline their operations and enhance transparency. We now issue forex to BDC directly; there was reduction in the amount of weekly forex sales to BDCs but recently it was increased to $30,000 weekly.
Nigeria may stop foreign-currency sales for local-goods imports
Continuing, Emefiele , said the CBN is considering halting sales of dollars to import goods that are already manufactured in the country as it seeks to reduce pressure on the local currency hit by a drop in oil prices.
"The only thing that will reduce pressure on our currency is by producing those things we are importing today, We will try as much as possible not to hurt your business, but we need to be able to work together.
According to the CBN Governor "The CBN will meet legitimate demand, but we will not be concerned about illegitimate demand. If the central bank allowed the naira to trade more freely then it will lead to a major depreciation as Nigeria is not yet an export-driven economy.
Emefiele reiterated that the central bank has no plans to further devalue the currency. "We continue to take all measures to defend the currency at the current exchange rate," he said.
Alhaji Aliko Dangote
"I commend the CBN Governor for all the initiatives taken to moderate and control the economy. We should try to enhance our export base. Attention should be given to major areas that need foreign exchange. Also there should be time limit for certain things to be imported into the country.
"Thereafter, government can stop such importation. Very soon, the CBN will not give us money for sugar importation; say in the next four years. We would be the highest foreign exchange seller in this country by 2018."
Oil prices steadily rise
Meanwhile oil prices steadied above $48 a barrel yesterday, recovering from earlier losses as the dollar weakened against the euro. Brent crude oil futures rose 22 cents to 48.38 dollars a barrel. U.S. West Texas Intermediate (WTI) crude futures rose 10 cents to 45.25 dollars a barrel. The euro rose for a second day against the dollar after an 11-year low on Monday.
Prices were also supported after the Secretary-General of the Organization of the Petroleum Exporting Countries, Abdullah al-Badri, said oil prices may have bottomed out.
He warned of a jump of oil price to 200 dollars a barrel if investment in new supplies was too low.
Michael Hewson, chief market analyst at CMC Markets, said that the effects of the weakened dollar and the residual effect of Badri's comments were temporary.
"I certainly don't think it changes the fundamental dynamic of the direction of prices with regard to oil," said Hewson. When you look at where Brent is and where it's been, there's a pretty solid floor at the moment around 47 dollars a barrel."
Standard Chartered said OPEC's decision to keep production high was beginning to impact other producers.
"Non-OPEC output is being hit hard, and we now expect the oil market to tip into supply deficit in H2," the bank said. Traders said there were other signs of a potential market pick-up.