The PDP Presidential Campaign Organisation has challenged the Independent National Electoral Commission (INEC) to address the issues surrounding the certificate of APC Presidential Candidate, Gen. Muhammadu Buhari, or face a vote of no-confidence from the party.
Chief Femi Fani-Kayode, Director, Directorate of Media and Publicity of the organisation, said this at a press briefing on Wednesday in Abuja.
The brief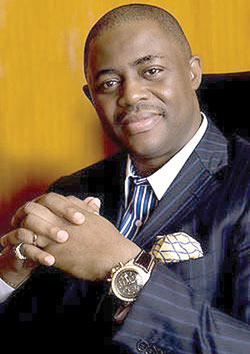 ing, he said, was to raise issues that played up on the certificate of Buhari, adding that Buhari had made a shocking and belated disclosure on Jan. 27, that the INEC had his documents without being specific about the documents he was referring to.
This, he said, was yet another "squalid attempt to give Nigerians the impression that INEC has his certificate.
"If this is true, it represents a somersault from his original position which was that INEC has his affidavit and it once again reveals Gen. Buhari for what he is.
"With this latest antic, Gen. Buhari is obviously trying to smuggle a newly acquired certificate into INEC through the backdoor.
"If this is true and if INEC allows such a thing to happen, it would put a serious question mark on its impartiality and credibility.
"It would mean that it has collected his newly-acquired certificate, 40 days outside the stipulation of the Law.''
Fani-Kayode said that Gen. Buhari had also referred Nigerians to INEC's Legal Adviser on the issue, adding that the same legal adviser had earlier in response to numerous inquiries in December 2014, told the newsmen that INEC had published all that the presidential candidates submitted.
He had said that in the case of Buhari, FORM CF001 (no certificate attached) and affidavit which was a court papers and not personal document was submitted.
Fani-Kayode, therefore, wondered at what point the affidavit transmited into additional documents or when additional documents were provided to INEC in line with the law.
"The electoral body must come clean on this matter; otherwise we will be compelled to pass a no-confidence vote on it.
"If INEC is complicit in the desperate and despicable attempt to extricate Gen. Buhari, without compliance with the provisions of the law, from this lingering embarrassment, we will have no other choice than to harbour the suspicion and fear that the electoral body is already compromised and can lend itself to the ungodly agenda of truncating our victory when our candidate wins.''
He, however, urged the election observers to keep watch of the unfolding events regarding Buhari's qualification or otherwise, stressing that in other countries, it was about obeying the rule of law and not about protecting the political interest of an individual.
This, he said, was especially so since a free, fair and credible election was not about the day of voting alone, but also the processes leading up to the elections