*I'm not sure God spoke to Prof Osinbajo
By Emma Amaize
PRESIDING Pastor of Flock of Christ Mission International, Warri, Delta State, Bishop Simeon Okah, has advised the 72-year-old All Progressives Congress, APC, Presidential Candidate, General Muhammadu Buhari (retd) to sit down because he is too old.
Bishop, who gave four reasons why Nigerians should not vote for Buhari, said, "At his age, I have the desire and cry for the youth of Nigeria. Buhari will not communicate with these young ones. He will not feel what they feel, I prefer a younger person to him, who is educated."
His words, "Now Buhari is saying he will fight insurgency, that he will use the army. When he was a general in the army and Head of State, he was not able to handle the army when they staged a coup. Is it not coup that sacked him?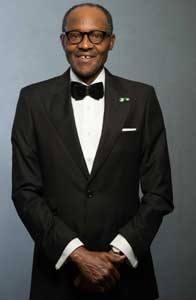 "If he was a general and a commander- in -chief, why did that happen? Not now in a democracy, you know in a democracy, it is difficult when compared to military rule. So in military rule, he was not able to have a grip on the army, Buhari knows in his heart of heart that he cannot," he added.
Okah asserted: "Thirdly, I cannot trust Buhari. How many times has he said that he would not come back after losing elections in the past, he came back the other day. How can I trust him? I will have difficulty to trust him."
The cleric stated: "Buhari, whether he accepts it or not, he is religious extremist. If he thinks some of us have forgotten, the other day when he lost election, he said that if he loses election, he will make Nigeria ungovernable, today, North-East is ungovernable. Buhari has to make a confession and he needs to apologize to this country."
The Bishop said, "I pity my brother, the professor and SAN, Yemi Osinbajo, a senior pastor at the Redeemed Christian Church of God, RCCG, I don't think he heard from God, He forgot how Buhari handled Pastor Tunde Bakare, go and sit with Bakare, some things Bakare cannot publicly say, how Buhari dumped him. Do you hear Bakare talk about Buhari. On these four points, I will personally mobilize the youths and the church against Buhari."
Grandson, 4 others kidnap grandmother in Delta
WHILE 90-year-old grandma, Mrs. Agari Yard Hannah, residing at Umeh in Isoko South Local Area in Delta State, was praying hard for God to bless and prosper her grandson, Simon, the boy had other plans.
Hmm, with four other members of a kidnap gang, he kidnapped his maternal grandmother to make money quick from his uncles.
Well, Commissioner of Police in the state, Mr. Yakubu Alkali, said detectives from the Special Anti-Kidnapping Squad, have released the woman while the boy and his cohorts are in custody explaining the reason for their action.
One thing that baffled me, you mean the boy and the gang do not even respect the age of his grandmother.
Hike in fees: FUPRE students barricade East-West Road
STUDENTS of the Federal University of Petroleum Resources Effurun, FUPRE, Effurun in Delta State, laid siege to the East-West Road this afternoon disrupting traffic for some hours over the increase of their school fees by the authorities.
A traveler said, "We are trapped, there is nowhere to go forward or move back as the students came out from their school, which some said is nearby and blocked the road."
Students Union Government, SUG, leader, Victor Ovorabua, however, said the students, who also locked the institution's gate  were enraged that the management increased fees for returning students from N26,4000 to N40,000, while accommodation fee was increased from N10,000 to N50,000.
A student said they were angered by the way the acting Vice Chancellor, Prof Olatunde Damisa addressed them on the matter, but soldiers, who got wind of the peaceful protest, were both at the school and expressway with the students to ensure the protest was not hijacked by hoodlums.
As at the time of this report, the siege has been lifted.