By Ndahi Marama, Maiduguri
The military in a coordinated intelligence sharing on terrorist's activities in North East have foiled attacks on Biu and Azare towns in the early hours of Wednesday, leaving 41 suspected insurgents killed in Biu and Azare area of Borno State.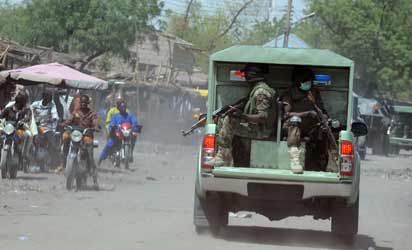 According to reports from a field military officer in Biu yesterday, the insurgents were bombed while moving towards Biu and Azare with an aerial support of two Nigerian Air Force (NAF) fighter jets from Yola.
"The terrorists had on Tuesday evening attacked the Divisional Police Headquarters in Azare town of Hawul Local Government Area and carted away many armouries before proceeding to Biu to attack our military posts and then proceed to the town to cause mayhem.
Three hours after, two fighter jets arrived and cleared the terrorists' convoy of vehicles proceeding to this town, three kilometres away from our military post." he said.
Another military source from the 7 Division of Nigerian Army in Maiduguri yesterday also confirmed incidence, stating that the soldiers are on top of the security situation.