BY CHARLES KUMOLU& GBENGA OKE
WITH electioneering campaigns of the two leading political parties in Nigeria, All Progressives Congress, APC, and the Peoples Democratic Party,PDP, already in full swing expectation of issue- driven campaigns is widespread.
This yearning cuts across party lines in a country where exchange of brickbats had hallmarked presidential campaigns since the restoration of democratic rule in 1999.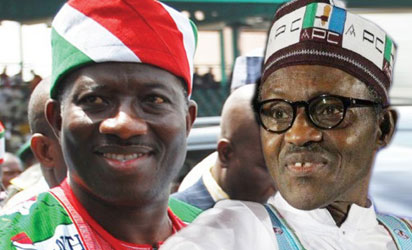 But since the duo of Gen Muhammadu Buhari and Goodluck Jonathan of the APC and PDP kicked off their drive, the nation is being treated to accusations and counter-accusations.
The development is sending wrong signals across Nigeria, where the present administration is believed not to have provided enough answers to the nagging questions on grinding poverty,insecurity and wobbling economy.
Comparatively, some conceded that Buhari may not have added much to the provocative nature of the campaign utterances, while others have cited preponderance of evidence suggesting that the PDP has so far assailed Nigerians with non issues.
Uphill at convincing Nigerians
Sequel to this, opinions are not divided that the candidates would have an uphill task convincing Nigerians why they should be voted for.
An analysis of the exercise, showed the PDP candidate, jabbing his APC counterpart at various times, thereby expanding the perceived fault-lines on the posturing of the candidates.
For instance, the President had at his campaign flag off in Lagos, challenged his principal opponent to explain how he spent his defence budget while he served as Head of State.
"He did not buy a single rifle. He had great soldiers who had no arms,'' the PDP candidate said.
Chiding Buhari, Jonathan said: "Ask him, when he was the Head of Government, did he buy one rifle for the Nigerian military? They refused to equip the military. Ask them what they did with their defence budget that they did not equip the military.''
Anti-women
He further accused the former Head of State of paying no attention to women while he was the Head of State.
At his campaign rally in Enugu, the President was believed to have sounded personal against Buhari, when he said the former can't possibly change the country if he can't remember his own mobile phone number. He said that Buhari never appointed a woman into his cabinet when he was Head Of State and told women that their place would not only be in the kitchen if Buhari win but they will also die in the kitchen.
The president made the statement in response to Buhari's promise to revive the economy.
"What will you do with a man who is over 70 years
and who may not remember his phone number?," President Jonathan asked Nigerians in Enugu. Also, the PDP presidential candidate had, while inaugurating the Goodluck/Sambo 2015 Presidential Campaign Organisation, PCO, promised to expose the failings of his predecessors including Buhari, which stunted the country's growth and development.
On his part, the APC candidate responded to the allegation of underfunding the military and said that his administration spent more than the Yar'Adua/Jonathan administration in real terms. Citing a comparative study of the amount spent by various governments on military hardware as part of total defence budget, the Buhari team in a statement by Mr. Dele Alake, Director, Strategic Communications, Buhari Campaign Organisation, revealed that while the Buhari/Idiagbon spent 38.68 per cent of total allocation to the military on capital items such as military hardware between January 1984 and August 1985 when it was overthrown, the Yar'Adua/Jonathan administration spent 34.67 per cent of military budget between May 2007 and May 2010.
Interestingly, the weekend President Jonathan was chiding Buhari over his ability or not to remember his phone number the retired Army General was in Abia and Ebonyi talking about unemployment and energy challenges in the country.
Irked by the manner of campaigns so far, a member of the House of Representatives in the Second Republic, Dr. Junaid Mohammed, urged Nigerians to demand answers to various national issues bedevilling the country.
Nigerians should question the candidate ''I think the media needs to play its role because campaign is a process and not a single moment. I think generally the media has refused to ask the candidates the basic questions on what they want to do. Instead, the media has been silent and trivializing issues and that is why we are having the kind of campaigns we are seeing today. Media should play a role by asking candidates in specific terms what they intend to do on development, infrastructure, power and how realistic they can achieve some of their electoral promises within the stipulated time,'' he noted, adding that serious questions should also be asked on promises made before.
He further said: "Power seems glamorous but my question is what of water? Is it not a shame that more than 50 years after Nigeria attained independence and up till this moment, pipe born water remains an issue in the country. How will the candidates ensure Nigerians get pipe borne water? Nobody is addressing these issues the way they ought to. We all know General Buhari has a solid record of fighting corruption but what is this government in power doing? They have bastardized everything. It is not the issue of who does what? I believe strongly that the media has the responsibility of ensuring that our politicians keep their campaign promises by asking them some very cogent question.''
Opposition addressing issues more than the incumbent— Utom On his part, Prof Pat Utomi said: ''Part of the blame has to do with the Independent Electoral Commission, INEC, and civil society who seem to have abandoned the real issues.
I expect them to draw up accountability process and specifics to ask the candidates.
"We all know that incumbents run on their achievements in office and unfortunately this government seems not to have fulfilled some of their electoral promises. The President promised to fix power in four years and after six years, the power is still an issue worse than he met it.
"INEC on its own part is supposed to draw up discussions among the candidates but that is not the case with Nigeria. When you read the manifesto of the opposition parties, you can see that it is the best so far. I am very worried and frightened over the incumbent because after six years in government, he seems not to have grip of any issue. Its the opposition that seems to be addressing some of the issues than the incumbent.''