By Festus Ahon
ASABA—Governor Emmanuel Uduaghan of Delta State has presented a budget proposal of N327.68 billion for the 2015 fiscal year to the state House of Assembly.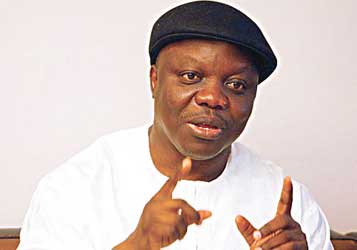 Uduaghan gave the breakdown of the budget to consist of N161.6 billion recurrent and N166.07 billion capital estimates, representing 49.32 and 50.68 per cent respectively.
The governor said that the 2015 estimate was lower than the 2014 fiscal estimate by N123.05 billion, explaining that the decrease was due to the fall in the price of crude oil at the international market.
He said: "I wish to announce a budget proposal of N327,682,982,917 for the services of Delta State in the 2015 fiscal year.
"This amount comprises N161,606,428,928 or 49.32 percent for recurrent expenditure and N166,076,553,989 or 50.68 percent for capital expenditure."
Sectoral breakdown of the capital estimate revealed that a lion share of N50.32 billion, representing 30.3 per cent went to the economic sector, followed by the social, general administration and environmental sectors while the sum of N34 billion was voted for the Delta State Oil Producing Areas Development Commission, DESOPADEC.
Uduaghan said that N68.53 billion of the recurrent estimate was allocated to personnel costs, N51.33 billion for overhead costs with N41.69 billion was set aside for consolidated revenue charges.
He gave the sources of funding for the budget as statutory allocation, including mineral revenue derivation, representing 63.74 per cent while internally generated revenue (IGR), is 18.6 per cent, Value Added Tax, VAT, and other capital receipts, representing 13.58 and 3.81 per cent respectively.
"The 2015 budget is driven by the successes recorded in various sectors of the state's economy in the past seven years up to the 2014 Budget of Consolidation, Sustainable Economic Growth and Development as the 2015 budget is aimed at consolidating on the achievements of 2014 budget as well as completing all on-going projects and programmes that will facilitate the fulfillment of the administration's goal of making Delta State one of the most industrialized and developed states in Nigeria by 2020.
"Priority is given to the completion of on-going projects in the areas of rural and urban road network and infrastructure, security of life and property (including logistics support for law enforcement), healthcare and education," he said.
Reviewing the achievements of his administration since 2007, Governor Uduaghan, said: "When this administration took over the mantle of leadership in 2007, I pledged to provide a more efficient government that will embody the vision of a politically united, socially integrated, stable, economically prosperous and well-organized state, with equal opportunity for all Deltans and in all modesty.
"I believe we have tried to actualise this pledge given the plethora of infrastructural development and other achievements we have recorded in the socio-economic transformation of our beloved Delta State.
"Indeed, Mr. Speaker, members, after a critical review of our performance, so far, it is refreshing to note that this administration has, with the cooperation and understanding of all stakeholders, been able to meet some of the critical challenges of our shared vision for Delta State.
"We can, with a good measure of certainty, say that this administration has brought peace, tranquility and accelerated development to the state. As we prepare to exit office next year, it is the avowed resolve and determination of this administration to finish strong. In this regard, it is gladdening to underscore that Delta State provides viable investment environment given its comparative advantages as a leading producer of oil and gas.
"The state is also strategically located and accessible to other parts of Nigeria by any means of transportation and government has invested heavily in security to create a safe and secure environment, we have a breed of young, educated and active population. Accordingly, we are committed to striving assiduously to deliver on the provision of critical infrastructures which this administration has set out to establish to support investors and improve business environment in our state in pursuit of our vision of Delta Beyond Oil."
The Deputy Speaker of the state House of Assembly, Mr. Basil Ganagana, assured Governor Uduaghan, on behalf of the legislature, that the budget proposal would be given speedy attention to ensure service delivery to Deltans.