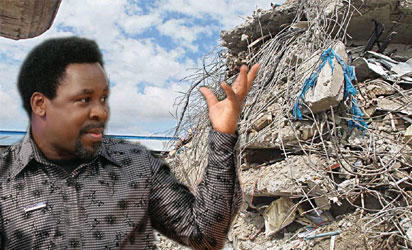 TB Joshua suggests sabotage over deadly building collapse
Pastor and televangelist TB Joshua on Monday again failed to appear at a coroner's inquest into a building collapse at his Lagos church which killed 116 people, including 81 South Africans.
TB  Joshua had been called to give evidence at the hearing but his lawyer, Lateef Fagbemi, asked for him to be excused because of a pending high court application.
Lawyers for Joshua, who has claimed the collapse may have been sabotage, are attempting to stop the inquest, arguing that the coroner has exceeded his powers to call him as a witness.
The high court hearing will be held next Monday, the inquest was told.
Coroner Oyetade Komolafe accepted Joshua's absence pending the high court session.
"Let your client go to the high court and come back," he told Fagbemi.
Joshua was summonsed twice to appear at the inquest before the application to stay proceedings was made.
The engineer of the collapsed building was in court but said he could not give evidence because he was ill. Komolafe warned him that he faced jail if he did not appear on Friday.
Expert witnesses have told the hearing that there was no sign of an explosion or sabotage of the building, which housed foreign followers of Joshua's Synagogue Church of All Nations (SCOAN).
The Lagos state government has said the building did not have planning permission and that an inspection had found that other structures on the sprawling SCOAN site were shoddily built.
On Joshua's theory of aerial sabotage from a low-flying plane, Rafiq Arogunjo, of the Nigerian Airspace Management Agency (NAMA), said the aircraft seen over the building was on a training mission.
The Nigerian Air Force C-130 aircraft, flying at 1,100 feet (335 metres), was operating "normally in line with aviation rules" on the day of the tragedy, September 12, he said.
NAMA officials reviewed security camera footage of the plane released by church officials and said the aircraft banked left on four occasions without flying directly over the building.
Air traffic control at the nearby Lagos international airport directed the pilot to divert to allow four incoming flights to land, he added.
The inquest was adjourned until Wednesday.