By Ekerete Udoh
It is no longer news that top actress Ini Edo's marriage to Philips Ehiagwina has collapsed. So much has been written mostly by writers relying on third party sources as to why the marriage failed.
The widely speculated reason has been the issue of infidelity that the husband alleged.
But was that the main reason the couple went their separate ways? According to a source close to the couple and was there when the romance started in 2008, and remained close to the now divorced couple, the media has been scratching the surface of what indeed was a story of irreconciliable differences the actress endured for over six years of her marriage to her estranged husband; and why she gave her all to sustain the marriage. It is a story as told by an insider who knew the couple way back from New York, where Philips once lived, before moving to Texas, then to Atlanta and now Ghana.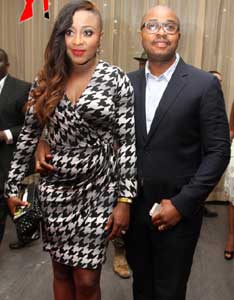 "I think Ini Edo was badly in love. Philips was a charmer and, as a human being and deeply in love, she followed her heart. It is so sad that a woman blessed with such a good heart could be treated in such a hurtful manner. Most people may not know, but Ini Edo is a dedicated and totally committed spouse any man could hope to have. That's why she endured all she did, for six years without letting the world know the pain she was going through in her marriage," the source stated. "Most people do not know that Ini Edo gave up a lot of acting jobs to be with her husband in America and, unlike the widely peddled story that the actress was involved in romantic relationships with other men, for the six years that Ini was married to Philips, she never cheated on him.  Ini Edo adored and loved Philips; she was very fond of him, cooked his meals personally, and was practically splitting her time between two continents, all in her efforts to be a good wife.
" There is no doubt that Ini was madly in love with her ex-husband. In a 2009 interview she had with my newspaper, The Diasporan Star in New York, she effusively declared her fidelity to Phillips and debunked all the stories of her liaisons with other men. "I am usually at a loss when I read stories about my sexual relationships with phantom figures and personalities. It is really astonishing when people just manufacture stories, give them legs and let them fly when they know the stories are absolutely false," she had said.
"It is perfectly legitimate for men to have designs and desires on stars. I was recently voted by the public as Nollywood's Sexiest Actress. So it comes with the territory that men would want to date me. The question then becomes: do you fall prey to every man that comes your way? The answer is absolutely "no". I was raised well by my parents and I have always been a one-man lady. All the sexual shenanigans that the media have associated me with are all false. The problem with our journalists is that if they saw you at a coffee shop with a man – just any man – even if that man is your cousin or brother, they will automatically assume that that is your new lover, and without asking questions, will rush to publish that you were seen at a coffee shop with a new lover.
"I have lost count of the number of such innocent outings with family members, friends that the media misconstrued that I was dating. What the media failed to understand was that I had not allowed stardom and celebrity to becloud my values. What they did not realize was that I wanted to be married, and start a family, and that the notion that I was some kind of a sexually crazed hormone raging young woman, was totally false and a bad reading of who I am.
"Did I have friends in the past? Of course, just like any other young and single woman out there, I had friends. Did that make me an out-of control sexual goddess? Absolutely not! It has been very painful for me each time I read all the stories written about me, stuffs that are patently false. I have, however, come to accept it as part of the price you pay for stardom. I just wished they could do a little investigation before rushing to publish.
"One story that pained me a lot is the notion that I snatched Philips from his ex-wife – Ruth Okoro – while she was recuperating from cancer treatment. Nothing could be further from the truth. The ex-wife said I was callous and mean-spirited to have done so. Initially, I had wanted to ignore what she had said about me. But I would like to use this medium to state that I did not take Philips from Ruth Okoro.
READ THE FULL STORY ON SUNDAY VANGUARD…