By Sam Eyoboka
THE Nigerian Constitution states in Section 36 (4) that: "Whenever any person is charged with a criminal offence, he shall, unless the charge is  withdrawn, be entitled to a fair hearing in public within a reasonable time by a court or tribunal." Unfortunately, this is not the case, and several efforts by stakehoders including the immediate past Chief Justice of the Federation, Justice Aloma Muktar to reform the nation's criminal justice system achieved very little.
Last Sunday's visit of the General  Overseer of The Redeemed Christian Church of God, RCCG, Pastor Enoch Adejare Adeboye to the Maximum Security Prisons in Kirikiri, Lagos had again revealed the primitive state of the nation's criminal justice system where inmates spend four years awaiting trial for offences that attract a conviction of three years and condemned criminals wait endlessly for execution.
Relief  materials
Adeboye, on a scheduled bi-annual visit/end-of-the-year-service to the Maximum Security Prison, was stunned when an inmate, giving a testimony of how he got converted to Christ in the prison, narrated that he was just convicted a few days earlier for three years after spending four years awaiting trial.
The man of God had earlier commissioned a 40 solar powered street lights for the use of Prison community in Kirikiri in addition to a donation of several relief materials including 100 copies of 2015 Open Heaven, 30 cartons of Indomie noodles, five cartons of toilet soap, five cartons of antiseptic soap, five carton of toothpaste, five cartons of toothbrush, 10 dozens of bathroom slippers, 15 dozens of singlet, 10 dozens of boxers, 10 cartons of biscuits, five cartons of beverages, five cartons of milk, three cartons of antiseptics and 100 bags of rice and vegetable oil for the officers.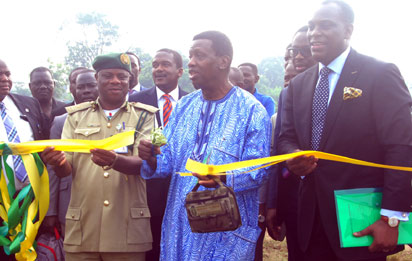 Legal Department
Before preaching a sermon on the real source of help, Adeboye pledged to involve the church's legal department to study the case of the inmate who was convicted three years, after four years of awaiting trial.
"I am not a lawyer but I thought that if someone has been in detention for four years for an offence the punishment of which is three years, I think, on conviction they would just say, go….Our legal department will look into this. If there is anything at all that can be done, we will do it," Adeboye said, explaining that there was a similar case that rended his heart into two during President Obasanjo's presidency.
"I remember I met a man here who had been on death row for 27 years. What he told me then tore my heart into two; he said execution is done very early in the morning, and for 27 years he had waited till 4.00 a.m. before he could sleep; that if he didn't hear any footsteps before 4.00 a.m., he knows he would not die that day. For 27 years years he had suffered that," he said.
Continuing, Pastor Adeboye said when he left the prison that day, he contacted the then President Obasanjo and "I told him no matter what this man did, suffering for 27 years is enough punishment and he directed me to the then governor of Lagos State, Asiwaju Bola Tinubu. I talked to Gov. Tinubu and Tinubu said I should talk to the chief judge and I thank God something was done."
According to him, he was also told then about people who had spent 11 to 13 years awaiting trial for offences that would attract fewer years on conviction and "I talked to them and I thank God they did something by way of decongesting the prisons."
Freedom from prison
Speaking on behalf of the prison authorities, the chaplain of Liberty Chapel, Pastor Tunwashe Kabiru expressed gratitude to Adeboye and his church for their contribution to the prisons, including the renovation of NOUN building, payment of school fees of 10 inmates in NOUN since 2011, renovation and equipment of the counter class in addition to "A CAN can make a difference", saying that "the weekly visitations of RCCG parishes are really making a difference in our lives physically and spiritually."
He also appealed to Pastor Adeboye to solicit on behalf of condemned convicts in the prison, to the state governors, especially the South West governors of Lagos, Ogun, Oyo, Osun, Ondo, Ekiti, Edo and others, noting that what is uppermost in the hearts of inmates is freedom from prison.
On that request, Adeboye promised to speak to the some of the governors, hoping that they would listen, stressing that the ultimate source of freedom is Jesus Christ.
Responding to the kind gesture of the church, the new Deputy Comptroller of Prisons, Mr. Mojeed Olaniyan said he was very much honoured to play host to the man of God in spite of his very busy schedule.
Stating that there are people in the prisons who had spent 37 years and others who had spent some period on the death row, the DCP said: "apart from the physical requests made by the chaplain which Baba had already granted we will want to let him know that our wants here are unlimited even though we are Federal Government children and we know that the resources are too meager."
Touch lives
Mr. Olaniyan said "definitely, this will go a long way in changing the psyche of the inmates. Apart from the material goods he presented to us the word of God given by Baba will definitely touch people's lives."
Pastor Oscar Onu of the City of David, RCCG, Victoria Island, Lagos said: "Like you heard Daddy GO's story during his ministration, he was here some time ago and in the cause of his promise to the inmates, he told them he will visit them every two years to bless and pray for them."
On the impact of the church's CSR project, Onu said "we can't blow our trumpet but it's obvious we have done a whole lot for the prison. We are giving back to the society. The Bible says let your light so shine before men. You can't preach to someone who is hungry. Daddy is just doing exactly what the Bible instructed all believers to do; while coming to minister to them he came with material gifts."
On the commissioning of streetlights, Onu said, "every two years while Daddy GO is going to minister to the inmates he comes with somethings that could make impact on them. So this year, he commissioned 40 solar lights from the beginning of the prison gate to the Navy Gate."