One of the Governorship aspirants in Rivers State, Alabo Paworiso Samuel Horsfall on October 24th sent a strong signal to other contestants of what they should expect in the forthcoming PDP primaries.
This was on the occasion of his declaration of intent to run for the Governorship election on the PDP platform in February, 2015. In a stunning show of strength, Horsfall pulled into the fold of PDP 127,000 decampees from APC, a feat that none of the other 16 aspirants has achieved.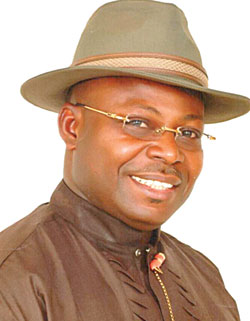 Horsfall's landmark declaration took place at the Legacy Centre, Sani Abacha Road, Port Harcourt, where National and Zonal officers of the party were at hand to receive the decampees.
Speaking at the colourful ceremony, the leader of the decampees and a former chieftain of the APC in Rivers State, Chief William Igwe, said their collective conviction to dump APC for PDP stemmed from their belief in Alabo Horsfall's sense of direction, clear thinking and commitment to progressive ideals of social and political wellbeing and economic development.
Chief Igwe, speaking to journalists at the venue reaffirmed the commitment of his group to work conscientiously for the party to deliver President Goodluck Jonathan in 2015 as well as work for the actualization of Horsfall's gubernatorial aspiration in the state in 2015.
In his declaration speech to a mammoth crowd of party faithful and supporters which included Ikwerre Reality Movement, IYC Worldwide, Association of Muslim Women, Coalition of Non-Indegenes in Rivers State, Mile 1 Market Women and the Opuwari of Kalabari, among several others, Paworiso Horsfall told his audience that his gubernatorial aspiration was propelled by the need to deliver the state and its people from the present state of alarming insecurity, socio-political degradation as well as stagnated economic and infrastructural development.
Drawing from his comprehensive study and analysis of the challenges of the state in a sixty-six-page compendium, Alabo Horsfall, a two-time Commissioner in Rivers State and a former Hon. Member of House of Representative, unfolded a 7-point Agenda in his Roadmap for a New Rivers State.
Highlights of his 7-point Agenda include restoration of security in the state to give every resident the freedom and liberty to pursue and achieve the best as well as leverage their inalienable right to life, liberty and pursuit of happiness. Also included is a comprehensive food production programme to turn all agricultural and agro-allied industries into a vibrant and profitable unit of the state economy.
Further high points in the Agenda include Conflict resolution, Health care, Educational development, Transport and Power.
Drawing further on his vast experience, Alabo Samuel Horsfall, a Grand Patron of the Association of Unemployed Graduates in Rivers State, declared his commitment to job creation and empowerment of the teeming and rising population of the unemployed, through various strategies.
In unmistakable reference to good corporate governance, the nineteen-awards winning aspirant, including Awards of Excellence by National Institute of Policy and Strategic Studies and Good Conduct from Africa International Media Organization, declared as part of his Roadmap, a discrete and efficient "Resource Management" culture, through a rational prioritization of development goals and controlled utilization of resources, through sound budgeting to achieve his Agenda objectives and the aspirations of the peoples of the state within set time frames.
Finally, the Kalabari-born Micro-biology graduate and thorough grass-root mobiliser, who believes that inordinate quest for power based on self-interest and unnecessary grandstanding in the political space has, as it were, unfortunately chased God out of the State, promised to return Rivers State to God as part of his 7-point Agenda.
Subscribe for latest Videos