BIRNIN KEBBI—President Goodluck Jonathan Wednesday flagged off the Nigerian component of the Great Green Wall, GGW, progamme at Bachaka, Kebbi State. The GGW is aimed at checking desertification in 11 northern states of Adamawa, Borno, Bauchi, Gombe, Kano, Katsina, Kebbi, Jigawa, Sokoto, Yobe and Zamfara.
Speaking on the occasion, Jonathan said that as a Regional Afforestation Project, the GGW was conceived as a 15 kilometre wide and 7,775 kilometre long, strip of trees and bushes from Senegal, in the west to Djibouti in the Horn of Africa in the east. According to him, the programme, which would pass through 11 countries, including Nigeria, had taken off in some member countries including Senegal, Chad and Niger.
He said: ''The GGW programme, initiated in 2005, was to tackle the detrimental social, economic and environmental impacts of land degradation and desertification in the continent.
''The GGW initiative was launched in 2006 in Abuja before the African Union, AU, endorsed it in 2007 as developed by the AU, through its New Partnership for Africa's Development, NEPAD.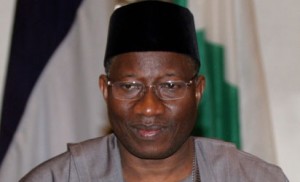 ''This biological corridor along the southern border of the Sahara is a panacea for halting the movement of the Sahara desert southward, protecting water sources and restoring habitats for biodiversity, energy resources and agricultural production.
''To this end, a GGW of about 1,500km-long (East-West) and 2km-wide (North-South), using both economic and forest tree species to be based on community-driven, integrated rural development approach was agreed for the Nigeria segment.
''The idea is that the project will principally check the advancement of desertification and erosion as well as restore eco-balance even as it creates sustainable jobs for thousands of jobless youths.
''The initiative undoubtedly presents us a great opportunity to advance our vision of a green pathway for human development, and address new and emerging environmental challenges in our country.
''Desertification is one of the greatest environmental and developmental problems of the 21st century. This ecological problem can trigger a vicious circle of environmental degradation, impoverishment, forced migration and conflicts, often threatening the political stability of affected countries and regions."