By Sunny Ikhioya
I HAVE always believed that for us to move forward, we must reduce our challenges to simple terminology; the simpler the analysis, the easier to carry the masses along. Unfortunately, our experts are all grounded in the Bretton Wood ideology: the more we try to understand, the more complex the solutions. For example, why can't we bring the naira at par with the United States dollar? Some might say it is not possible given the present day circumstances, but if we remember correctly in 1978, the dollar was even less than the naira at 65 kobo to one dollar.
Today, we are buying one dollar for N170. If it was possible then, why is it not possible now? It is not by re-basing or re-dominating the naira that will bring the situation to the 1978 status quo, it is by walking the same steps that brought it about, this time, doing it the right way; the way that will favour the country's growth and development; that is where we must start from.
Throwing our markets open or what they call trade liberalism is not a must. For you to open up your borders for all sorts of items to flock in, you must know what you stand to benefit, and the benefits must out weigh the disadvantages, by far. Every country that succeeded practised trade restraint to a great level at one time or the other, no exception.
Therefore, we must begin to re-examine all the trade agreements we have with our friends in line with the extent they serve our purpose(s).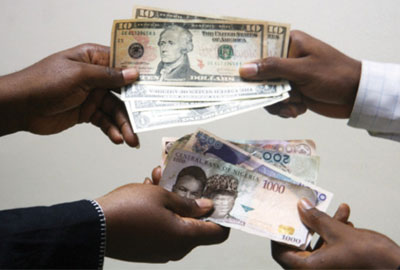 Also, we must begin to practise or implement our home grown economics; foreign remedies, as dished out by the World Bank, IMF and others will never be the solution to our problems. Foreign experts do not have the emotional or sentimental attachments to our problems; they neither see it nor feel it; at best they can only scratch at the surface and that is what has been happening. It does not make any sense for us to strive to make surpluses in our foreign reserves and place same in the hands of foreigners to manage for us; their loyalty is first to their country that sponsored them to the positions at World Bank and IMF. Secondly, is their pecuniary interest.
Therefore, to start the journey of bringing our naira back to equal the dollar or other foreign currencies, we must agree that it is a home grown problem which to a large extent requires home grown solutions.
We failed because we did not see the need to be realistic with our situation we over-rated our capabilities and got careless and wasteful with resources; we developed tastes that our economy could not sustain and consequently lost all senses of direction. Moreover, our leadership along the line, sold the country to foreign interests as looted monies were being siphoned abroad. Lastly, our leaders, especially the military, were overwhelmed by the responsibilities of managing Nigeria as a corporate entity.
Some very hard and unpleasant decisions have to be taken in the interest of the over all; a few must have to be sacrificed or inconvenienced. Imagine what would have become of Lagos today if discipline was not brought in. What will Oshodi look like? It is the will of leadership to succeed in its endeavour, a leadership that has a picture of what the state should be or look like and is unwavering in the pursuit of that interest.
So, our leadership must be firm in undoing the things we did wrong in the past that brought us to this sad and worrisome situation. We must start by itemising what is essential to our survival and those things that are not.
Too many fake and unwanted goods have flooded this country, let us put a halt to that. The cause of our naira decline is that, our naira cannot match the demand for foreign goods coming into this country. So, when these non-essential items are put on the prohibition list, the burden on the naira will start coming down.
Build on agriculture, food is a defence, a country that cannot feed itself cannot be said to be sovereign.
In addition to the above, we must encourage local manufacturing; the government must build capacities in the form of infrastructure, patronage and policies. Provide funds and services for small medium enterprises, SME; they are the bedrock of a country's development.
We must do something about our educational standards; a well educated youth is an asset to the future development of a country. Imagine the trillions of naira going out yearly in the name of education- Europe,America, Ghana, South Africa, many others. If properly harness and standardise, we do not need to travel our for education, at least until the tertiary level.
All medicals, including that of the presidency, must be done in Nigeria. Again, if we build our hospital capacity, the rush overseas for medical consultations will stop.
We must build capacities for our mass communication: put correct infrastructures in place. Our media must be supported to compete at the international level. Where Multi-choice is almost a monopoly should not be encouraged; even the ones coming out as competitors now, are all foreign owned.
We must encourage appropriate pricing for all of our local products, both raw materials or finished productions; in addition, the local content initiative must be intensified.
We must revamp our ports, airways and shipping lines, while local cabotage rules must be made to function.
Sacrifices are required of all for the repatriation of funds deposited abroad. For every idle funds we place in foreign accounts both by government or individuals, we do harm to the value of our naira.
We must all consciously shore up the value of our naira; it starts with discarding those little bad and compulsive habits.
The examples that I have given here are not exhaustive, if you have additional views, you can add your comment to the online edition of this piece. It is our collective responsibility to shore up the naira for the generations of today and those coming behind.