By  Chioma Obinna
The newly constituted Management Board of the Lagos State University Teaching Hospital, LASUTH has identified bed space as its biggest challenge.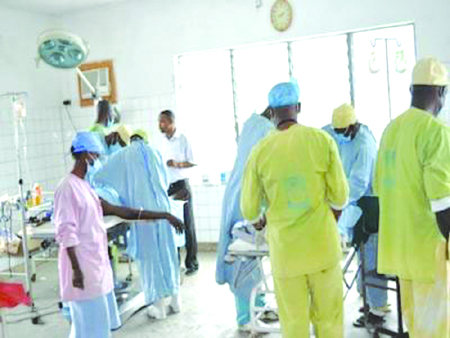 Chief Medical Director of LASUTH, Prof. Adewale Oke however admitted that the numerous challenges faced by the hospital enabled it grow in manpower and development of means and structures.
Oke, who recalled that LASUTH started as a cottage hospital lamented the influx of patients from other part of the country to access care at LASUTH saying, it has become a serious challenge as the hospital have limited bed space.
Rejection of patients: "When a hospital is full, it is full. It is very unethical and unprofessional for patients to be nursed on the floor.
When a hospital is stretched to capacity, there is nothing anyone can do about it. We have 600 beds and when they are full they are full. In the best of countries, when a hospital is full, people make provision at other hospitals.
Blaming the situation on poor referral system in the country, he said: "The state government has come up with Services Charter to ensure work is done accordingly.
In each unit there is an administrative manager and a committee put in place to check if vacant beds are being filled up to ensure no patient is sent back. It is no longer business as usual."
Training: Oke said the hospital has got four hospitals in India for hands-on-training for doctors. "Right now, we have sent two doctors to India.
Each department in the hospital has been asked to develop an MOU that will take cognisance of training. We have further to talked to them about administration, record keeping and every other thing that we require that will make our hospital run as a unit."
The CMD said LASUTH is capable of handling any kind of emergency in view of modalities in place as a form of proactive response.
He said that new look 130-bed Ayinke would be ready early next year, while the expansion of the obstetrics and gynaecology wing of the hospital is near completion and will soon be fully staffed and equipped for better coverage.
Stewardship: Giving account of stewardship, Chairman of the Board, Dr Francis Williams, said through assistance of the State Government, the health institution had actually improved in terms of patient care, infrastructural development, staff welfare and training as well as procurement and refurbishment of medical equipment.
Williams said the influx of patients who have no business at the tertiary institution, was another burden, and urged the public to utilise services of the primary healthcare centres and General Hospitals within their vicinities.
He explained that decongesting LASUTH would help the staff focus more on research for the development of the state healthcare delivery and other serious cases that requires the hospital's services.
Reeling out milestones achieved by the hospital, Williams explained that the oxygen manufacturing plant produces pure oxygen with purity of 98 percent. used in LAUSTH, which has begun operations in its Burns and Trauma Centre extension located at Gbagada General Hospital.
"Right now, LASUTH has acquired a number of investigation machines including a 24-hour treatment for accident and trauma cases at the surgical emergency unit. We have performed six keyhole surgeries of the chest called video – assisted thoracoscopic surgery, VATS.
"In a ground-breaking feat, LASUTH successfully carried out a cochlear implantation to correct hearing deficiency in two patients. LASUTH also carried out a coronary artery bypass graft in 2013 amongst others."
The LASUTH laboratory is equipped with new machineryand is certified by the National Coordinating Centre for Tuberculosis to own for the Gene Xpert machine for detection and diagnosis of TB and MDR-TB.
Subscribe for latest Videos