By Michael Eboh
LAGOS — Members of the Organisation of Petroleum Exporting Countries, OPEC, yesterday, elected Mrs. Diezani Alison-Madueke, Minister of Petroleum, as its president, making her the first female president of the oil cartel.
Alison-Madueke, who is currently the Alternate President of OPEC, was elected at the 166th meeting of the OPEC Conference in Vienna, Austria, and will assume office from January 2015.
She is expected to take over from Abdourhman Atahar Al-Ahirish, Libya's Vice Prime Minister for Corporations.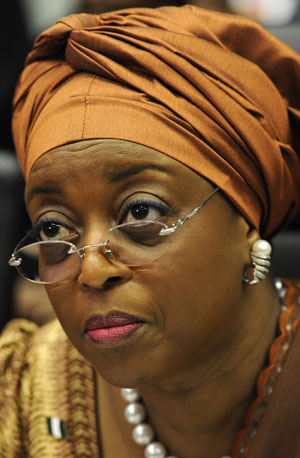 The conference also elected Dr Mohammed Bin Saleh Al Sada, Minister of Energy and Industry of Qatar and Head of its delegation as Alternate President.
The Federal Government had, in June nominated Alison-Madueke for the post of Secretary-General of the organisation to succeed the incumbent, Abdullah al-Badri, whose tenure ends in December.
Speaking shortly after the election, Alison-Madueke maintained that there were no quick fixes to sliding oil prices, adding that "the strategy the Federal Government of Nigeria intends to deploy to cushion the effect of the fall is to develop the country's gas infrastructure for domestic use."
She said the current trend would make Nigeria to look very stringently again at the Petroleum Industry Bill (PIB) which is already before the National Assembly to ensure that the enablers therein are explored to make it more competitive in the global energy market.
She said the burden of falling oil prices was impacting on both OPEC and non-OPEC member countries.
She explained that OPEC would provide a veritable platform for member countries to find a remedy and deal with the challenges posed by shale oil and gas from the United States and the current decline in crude oil prices.
She said: "US shale oil and gas had a lot of impacts on all major oil and gas producing economies. It is a major game changer for all stakeholders in the energy mix across the globe."
Allison-Madueke further stated that in the months ahead, OPEC would provide a veritable platform for member countries to find a remedy and deal with the issue frontally.
Member countries retain 30mbpd crude output
In a statement announcing decisions reached at the conference, Ohi Alegbe, Group General Manager, Group Public Affairs Division, Nigerian National Petroleum Corporation, NNPC, said at the end of the conference, members of OPEC agreed to maintain the current production level of 30 million barrels per day as was agreed in December 2011 in the interest of restoring market equilibrium.
He stated that OPEC member countries also expressed their readiness to respond to developments which could have an adverse impact on the maintenance of an orderly and balanced oil market.
He said: "OPEC also directed its secretariat to step up its close monitoring of developments in supply and demand as well as non fundamental factors such as speculative activity and keeping member countries fully briefed on developments."