By Clifford Ndujihe
GRADUALLY, the jostle for the Peoples Democratic Party (PDP) governorship ticket in Akwa State is snowballing into a four-horse race that can be further narrowed down to the battle of two former deputy governors.
Until this month, over 22 aspirants, drawn from the three zones of the state – Uyo, Ikot Ekpene and Eket – fought fiercely for the ruling party's ticket.
The state chapter of the PDP, the state government and some leaders zoned the ticket to the Eket zone, a move that is being resisted by some Akwa Ibom PDP elders and stakeholders led by immediate past governor of the state, Obong Victor Attah.
Early this month, the national leadership of the PDP ratified the zoning of the ticket to Eket.
With this development, four aspirants have emerged as front runners, namely: Engineer Patrick Ekpotu, Mr Udom Emmanuel, Bishop Samuel Akpan, and Obong Nsima Ekere, who are the Eket zone.
Of the quartet, Ekere and Ekpotu have, at one time or the other, served as deputy governors of the state under the administration of Governor Godswill Akpabio. Both of them believe that they are eminently qualified and have the requisite experience and exposure to take over from Akpabio, continue and deepen the uncommon transformation agenda and take Akwa Ibom to the Promised Land.
Ekere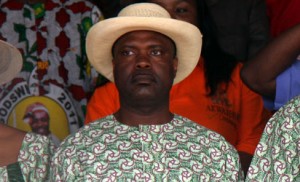 Born on May 29, 1965, Ekere is a native of Ikot Oboroenyin, Edemaya clan in Ikot Abasi Local Government Area of Akwa Ibom State.
He started his secondary education at Regina Coeli College, Essene, Ikot Abasi, and completed same at Mary Knoll College Ogoja, Cross River State. He had a brief stint at The Polytechnic, Calabar (1981-82) before gaining admission into the University of Nigeria, Nsukka. where he earned a B. Sc. Honours Degree in Estate Management (1986).
Before joining the public sector, Ekere was the Principal Partner, Ekere and Associates, a firm of estate valuers and real estate development consultants with offices in Port Harcourt, Lagos, Abuja and Uyo, which he started in 1993. In 1989, he set up Gassons Nigeria Limited, an indigenous anti-corrosion, environmental, fabrication/maintenance engineering company.
In March 2008, Mr. Ekere joined the public service for the first time when he was appointed Executive Chairman of AKIIPOC, the investments and industrial promotions' arm of the Akwa Ibom State Government. He also served simultaneously as chairman of Ibom Power Company, the independent power generating company owned by Akwa Ibom State.
Ekere's active political career began in December 1997 when he contested and won election into the Akwa Ibom State House of Assembly on the platform of the Grassroots Democratic Movement (GDM) during the General Sani Abacha transition programme.
At the start of the General Abdulsalami Abubakar transition programme, he joined the PDP and played a very active part in the politics of the state. The Estate surveyor-turned politician contested for the governorship seat in 2007 and came second at the primaries. He was to join hands with the Akpabio Administration through his appointment as the chairman of AKIIPOC. In 2011, he was nominated as running mate to Akpabio during the latter's re-election for second term.
However, the politician, who is favoured by the PDP zoning arrangement, appeared not to have enjoyed a good working relationship with his boss, as Akwa Ibom gladiators went for his throat leading to an attempt to impeach him from office as the deputy governor. Being a smart fellow, he resigned on October 31, 2012 ''on personal grounds.''
His supporters believe that Ekere is the most qualified for the job.
His 2015 campaign team said: "If we need a calm gentleman with credibility and integrity as our governor in 2015; If we need an accomplished professional who will consolidate and improve upon the achievements of the present administration, then the choice is Obong Nsima Ekere.''
Ekpotu
Born on June 26, 1960, Ekpotu, between 1973 and 1978, attended Regina Coeli College, Essene for his secondary education which he completed at Nsit People's Grammar School, Afaha Offiong in 1979 with Grade One.
He obtained his Bachelor of Tech. (Hons) degree in Chemical/Petroleum Engineering from the Rivers State University of Science and Technology, Port Harcourt in 1986.
After his National Youth Service, Ekpotu, between 1989 and 2003 made his mark in various companies that he worked such as Paegaul Engineering Nig. Ltd; Island Agro-Industries Dev. Company Ltd (IADC); Baks & Pee Int. Ltd; Baks & Pee Structures; and Island Communications Ltd. He served as Technical/Engineering Manager in some and Chairman/CEO in a couple of others.
His political journey started in 1983, when he was the youth wing leader of the Unity Party of Nigeria, UPN, in Cross River State and served as special assistant to the party's governorship candidate in the 1983 general election, the late Brig. Gen. U. J. Esuene.
He appeared on the political scene after a 20-year hiatus in 2003, when he served as a member of the Publicity sub-committee of the Obasanjo/Atiku Presidential Campaign committee, a position he got nominated into by Obong Victor Attah.
In the same year, he actively participated in Obong Attah's re-election campaign using the machinery of his non-governmental organization, the Civil Rule Advancement Works Organization of Nigeria, CROWN.
After Attah's re-election, Ekpotu was appointed as Commissioner for Information, Culture & Ethical Re-orientation and he and served from 2003 to 2005.
In 2006, the Federal Government appointed him as Federal Commissioner (South-South) in the National Assembly Service Commission, Abuja, where he served until his selection as running-mate to Chief Akpabio for the governorship election in 2007. He served as deputy governor until 2011.
I'll make Akwa Ibom dependent on IGR – Ekpotu
Ekpotu, who is upbeat on his chances of picking the PDP ticket and winning the election proper, promised to make the state less dependent on federal allocation by putting in place a robust agro-economy that will dwarf the current crude oil dependent system, if elected.
The chemical engineer-turned politician, who hails from Eket Senatorial District which the National Working Committee (NWC) of the PDP has endorsed to produce the next governor of the state, said he will realise the goal through a specially designed agricultural programme that will generate huge revenue and remarkably improve the state's Internally Generated Revenue (IGR).
His words: "We have to among other things, invest in palm oil production which is as lucrative as crude oil but neglected in the past. I can assure you that the state will be making an average of about N5 billion per month in the first three years after take off. And N20 billion a month at optimal operation.
"I will establish Ibom Agro and Allied Industries Ltd (IAAI) within three months of coming into office to drive the initiative on a competitive basis and not as a usual government outfit. Apart from the wealth creation potential of this initiative, it will also boost job creation in the state.
"My government will work hard to erase the divisive lines of ethnic and political dichotomies in the state by engendering a robust inclusiveness that will bring every interest group into a unified front that will focus only on the development and progress of Akwa Ibom State and Akwa Ibom land.
"My government shall as a matter of urgency pursue vigorous and purpose-driven youth empowerment programme through specially designed skill acquisition programme that will offer training in diverse fields that will add value to the lives of the beneficiaries such that they will become self- sufficient and essentially become job providers rather than burden to the society."
In the area of health, the former deputy governor stated that since majority of Akwa Ibom people live in the rural areas, his government "shall focus on the Primary Healthcare sector in the state by bringing effective health services to the rural parts of the state, where common diseases such as malaria, cholera and even common cold, remain a challenge to the people. And also ensure that portable water is made available in the local areas in order to promote good hygiene and prevent diseases."
Akwa Ibom, under his leadership, he said, shall take conscious steps to ensure a social re-engineering of the state that will be anchored on the principles of equity, justice and fairness. "Our administration shall also promote and reward merit, hard-work, creativity and productivity. This philosophy will essentially give a new focus and a fresh breath to our collective value system that yearns for a practical and visible reorientation"
According to Otuekong Idongesit Udokpo, one of the leaders of the Ekpotu 2015 Movement having an experienced administrator who understands the dynamics of governance, especially the unique architecture of a fast developing state such as Akwa Ibom, with its complexities, will be a blessing to indigenes of the state who yearn for credible and people – oriented governance".
He said Ekpotu, an author of many books including "Lifting the Peril: A Root-Cause Resolution of the Niger Delta crisis", is ''a great administrator and also a cerebral intellectual, who appeals across board and thus mobilizes the grassroots with the power of intellect, decorum, reason and fairness to all.''