By Theodore Opara
Ever wondered why Toyota models account for the highest number of vehicles on Nigerian roads? This is something that I have observed in the last few years.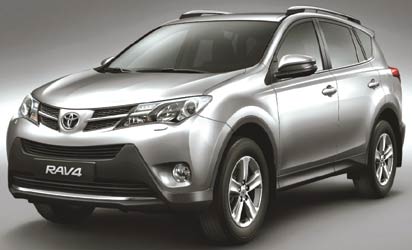 Toyota has dominated the roads in all segments where they exist. These include the sports Utility vehicle, (SUV), sedan, pickup and mini-bus segments. There is a saying these days that five, out of every ten vehicles on Nigerian roads are Toyota. The interesting aspect of Toyota dominance is that it cuts across both new and used vehicle segments.
Vanguard investigations revealed that the secret of this Toyota dominance lies in the Toyota Technology.
Technicians and automobile engineers believe that Toyota technology is less complex and simple to handle, while most car owners believe that the durability and ruggedness of Toyota models stand them out, hence you can see Toyota cars made in the nineties, still plying the road as if they were made in this millennium. For instance, the Toyota Camry (tinny light) as it is popularly known was first built in the early or mid-nineties, that is over 20 years ago, but the model still rules the used car market, attracting price of over a million naira.
The same goes for the old Corolla, Sienna, RAV4, Highlander, just name it.
According to Mr. Rasheed Abiodun, an Ikeja based auto technician who specialises in the maintenance of Japanese cars, the Toyota models stand out among others for many reasons. These includes the simple technology which makes them easy to repair, availability of spare parts and durability of the engines.
He explained that Toyota vehicles outlive other models and as a Toyota technician, you are rest assured of getting business because many customers like Toyota. "In short, I can tell you that half of the vehicles on the road today are Toyota cars, and even a half baked technician can fix any of the models", he said.
Another technician, Mr. John Okonkwo, whose workshop is located around Berger Yard, the popular Lagos used cars market corroborated Mr. Abiodun's position on Toyota.
According to him, we have since discovered that Toyota models have become most peoples favourite, and you can always get something to do if you specialised in Toyota brands. He said, "there is no Toyota part you can't find the original in the market even if you want to replace a whole engine, it is available and affordable than other brands. Besides, when you fix a Toyota, you don't entertain fear of breakdown and return job by the customer," he noted.
Even Toyota used car dealers have similar stories to tell about Toyota cars. Mr. Ibukun Adeoye, a popular used car dealer in Ikeja explained to Vanguard Motoring that though he had been in the business for many years, he has since discovered that Toyota brands are preferred by customers hence he has concentrated on the brand and Lexus which are hot cakes in the market.
"Since, I started selling Toyota, I have not had cause to quarrel with my customers. Rather, they are the ones who bring their friends to me to make more purchase and we see ourselves as a family.
"Do you know that some customers usually come to me to make order for their Toyota and Lexus cars and wait as long as one month for the car to arrive? This is the confidence that Toyota has brought to my business", he said.
Continuing, he said, "if you get used to Toyota, you cannot leave the brand. Have you asked why banks, insurance and others go for Toyota? He asked and also provided the answer. They know the secret of the brand.
"Though, it might cost a little more to acquire a Toyota car, but it is worth the price because you can resell it almost the price you bought it after using for four years. So, the resell value is another advantage coupled with the peace of mind.
In the new car segment, a friend in Mandilas once told me that having sold other brands and Toyota, she has come to the conclusion that the Toyota brand has no equal in durability and low maintenance cost. Kemi Eruosanyi, who was the National Marketing Manger of Mandilas, one of Toyota dealers in Nigeria, explained that, though Toyota might cost a little more to acquire, it cost little or nothing to maintain. Apart from your regular service, you hardly spend anything to keep your Toyota on the road", she said.