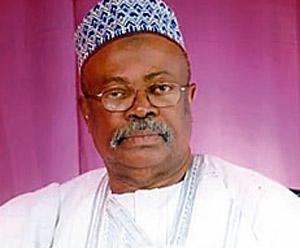 Abubakar Tsav
By CHARLES KUMOLU
ALHAJI Abubakar Tsav, an elder statesman and a retired Commissioner of Police, in this interview expressed sadness that  President Goodluck Jonathan's rumoured second term ambition has been made pre-eminent over the security challenge in Nigeria  by those, who recently adopted him as the Peoples Democratic Party (PDP) consensus presidential candidate. He also spoke on other issues.
The build up to the 2015 general elections has been characterised by despreation on the part of politicians. Since this is becoming a pattern in Nigeria's politics what is your advice in this regard?
It is bound to happen because many politicians are in politics because of what they can make for themselves. They are so concerned about making money and getting positions. So people should not be surprised that this has been the pattern since 1999. It is very unfortunate. If our founding fathers who played politics in the days of (late Chief Obafemi) Awolowo were to come back now, they would weep over what is happening.
The politicians of today have no conscience, all they are concerned about is to get political power. They don't mind using any kind of means to get there. Those in positions of authority have regrettably failed to give the nation the true meaning of democracy. I want to advice those seeking for political offices to know that it is only God that can give power. Political power should not be regarded as a do-or-die affair. It should be done with human face. Politics should be played like a game of football.  The reason for the present desperation is because politics is being viewed as an enterprise, where people make so much money. That is why everyone is interested in the job.  Our people should learn from developed democracies where politicians are so concerned about selfless service.
Absence of rule of law
Another reason for it is the near absence of rule of law in Nigeria. When people commit all sorts of crime in the name of politicking and go free, others will not be discouraged from doing so. Since 1999, nobody has been committed for electoral offences. No one has been convicted for armed robbery and shot. So these armed robbers have become party thugs and chieftains in their respective states. Sadly, these armed robbers-turn thugs and party chieftains have become the so called leaders. But if our laws were effective, people will be very conscious of their ways. But the sad thing is that for one to be a politician in Nigeria, he must be above the law. That is why all manner of things go on in the name of politics. When (late President Umaru Musa) Yar' Adua came, he was particularly concerned about the rule of law. The man was even against himself because of his belief in the rule of law. We experienced this when he obeyed court judgements against the Peoples Democratic Party, PDP, on governorship elections.
President Goodluck Jonathan's recent passmark on his leadership of the country has been interpreted as a justification for his rumoured second term ambition. What do you make of that?
It is very funny. How can  someone who sat for an examination claim to have passed without being assessed? Nigerians should be the ones to appraise Jonathan. You can see that under him, the country has witnessed the highest rate of insecurity.
There is lawlessness everywhere and unchallenged corruption. No one has been convicted for corruption, while impeachment threats are being used to frustrate governors. For the President to say that, it shows that he is taking Nigerians for granted. He has committed so many impeachable offences and our legislators, who hardly perform their watchdog functions, have done nothing about it.
The $9.3million arms deal is an impeachable offence in any country where the rule of law is obeyed and where the legislators are up to their duties. They are taking us for granted because Nigerian don't hold their leaders accountable.
What is your take on PDP's adoption of President Jonathan  as its consensus presidential candidate?
I have said it earlier that our political leaders are not interested in serving the interest of Nigerians. Their focus is on how to rig elections and embezzle money. If they were concerned about the nation, they would not have been carried away by the prospects of getting political power instead of saving the country from collapse. Those, who endorsed Jonathan don't love him. And they are not doing that for the good of this country. They are leading the man astray. Some of those supporting him  are governors, who want a second term while others want to go the Senate. They are doing that because of their selfish interests. It is very unfortunate that we don't have leaders. If we had leaders at different levels of the society, no one would endorse Jonathan  now considering the urgent need to restore security in the country.
The Chibok girls have been missing for the past six months. Nothing has been done about that. They have even forgotten about them. Some of the people supporting Jonathan are even mocking the girls and their parents. Some of them have said that the girls are not missing.  Those around the President are not telling him the truth about the mood of Nigerians concerning the state of the nation. They are only deceiving him by endorsing him in the face of national challenges that require attention.
You rose to the peak of your career in the Police Force, with that background, can you tell us how right it is for the Federal Government to purchase arms clandestinely?
There are many things involved in this matter. Maybe someone is using that method to launder money. Perhaps, the person wanted to divert the money for his own personal use. Otherwise, if you want to buy arms, the arms dealer must have an account. And the money should be transferred through the dealer's bank account. And if such must be done it must be according to all known legal procedures of arms purchase.
For  the (Christian Association of Nigeria) CAN President, he has got himself too involved in political issues. At this time, we expect religious leaders to pray for the country and offer useful advice for the betterment of the nation. What is the reason behind the purchase of arms? Is it to fight terrorists? There are many many questions that are unanswered on that issue. And the people advising President Jonathan are not doing him anyone good. His advisers ought to have told him the proper ways of purchasing arms. What stopped them from transferring the money through the Central Bank of Nigeria, CBN?  If they are claiming that some Western countries have refused to sell arms to Nigeria, then they should make the purchase legally elsewhere.
The way things are going on in this country raises a lot of questions. Nigeria has a very strong army that is respected in the continent and beyond. But unfortunately, defeating Boko Haram has become a big challenge. That our troops have not gone to Sambisa  forest is also a surprise to all those who respect the Nigerian Army.
Gen Muhammadu Buhari, retd, who you have spoken so well of at various times, has indicated interest in contesting for the office of the President for the fourth time. What is is your take on that?
Buhari has been tested and found capable. He is the only hope we have now. Maybe there are some people, who are better than him but he is the only honest person that has indicated interest so far.  He was a Minister of Petroleum and was not  found wanting. As a head of state, his record is still unrivalled. He headed the Petroleum Trust Fund, PTF, and had an enviable record. Buhari has no house in Abuja. Buhari has no house outside Nigeria. Buhari is not known to have stolen any money. He had the opportunity to steal but he did not. If given the opportunity to rule, he will rescue this country from destruction. My fear is that most of our politicians will do everything to stop him because he is honest. Since we have tested Buhari severally, why can't we give him the opportunity? If we want to stop corruption and if we want the rule of law to be active in this country Buhari is the man that can do that.
You accused the Federal Government of having a hand in Murtala Nyako's ouster as Adamawa State governor. The same government is also being accused of being responsible for the recent court judgement that installed Nyako's deputy, Bala Ngilari, as governor. What do you make of that?
I don't think the federal government has a hand in it even though I have not stopped accusing the government of knowing much about Nyako's impeachment. Right from the beginning there were a lot of mistakes in the processes leading to the impeachment of Nyako and his deputy's purported resignation. What the court has done now is to correct those mistakes.
The  scenario playing out in your state, Benue, promises to be an epic battle of political heavy weights. The incumbent governor, Gabriel Suswam wants to go to the Senate while Chief Barnabas Gemade is also interested in the seat. What do you think should be done to forestall the likely crisis that may arise from this?
Suswam has performed so much, even more than the governor who was there before. Our people can attest to that. If such a person wants to serve again in another capacity, it will not be a wrong idea. So, Suswam deserves to go to the Senate.
Agitations for power shift to Idoma nation in 2015, seems to be generating tension in the state. Since power has resided in the hands of the Tiv for a long time, would you as a Tiv support the calls for power shift?
The Idoma are bonafide indigenes of Benue State, so they are entitled to govern the state. We can't say that because they are seen as minorities they cannot produce the next governor of the state. That is wrong. In the spirit of fairness and equity, they should be allowed to govern the state.
The  recent  breakthrough in the fight against terrorism seems to indicate that the war could be won if things were properly done. How do you think the momentum can be sustained?
I remember that Borno State governor was the first person, who said that our military was fighting the war with inferior equipment. He was berated by many people for what was believed as false claims. But everyone now agrees with him since Boko Haram started their territorial conquests. The achievements of the military today is as a result of the government's acceptance that the war was being fought with inferior weapons. What we have seen is a result of a different kind of approach by the government.
Do you think the current wave of court-martial in the military will augur well for an army that has been widely criticised for its approach to the war on terror?
The military has its rules of engagement. If the soldiers go against the rules, they are supposed to be court-martialled. So, I see nothing wrong with them being court-martialled. So, the military is right on that because if they are allowed to go unpunished, they will become wild. There was an instance in Zaria, where over 30 people were killed by soldiers. Those responsible for that should also be court-martialled. Court-martial is important because it serves as check and balances against misuse of power by the soldiers.