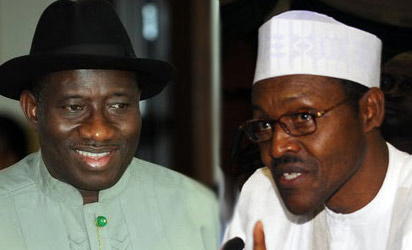 President Goodluck Jonathan and Gen. Muhammadu Buhari (rtd)
Jonathan blasts Buhari, says he is doing all that Buhari is promising
By Emmanuel Aziken, Political Editor, Ben Agande & Levinus Nwabughiogu
President Goodluck Jonathan yesterday blasted All Progressives Congress, APC presidential aspirant, Gen. Muhammadu Buhari (retd) for twisting facts and figures to project his 2015 presidential ambition, saying that all that the general promised to do were being done by his administration.
President Jonathan's sharp retort to Buhari's assertions of failing standards in critical sectors of the polity came as Buhari yesterday, pressed forward his ambition by purchasing the APC presidential nomination form through a bank loan.
While purchasing the N25 million nomination form at the party's national secretariat yesterday, Buhari lamented the high cost of the nomination form, but said that he was fired by his ambition to procure a bank loan through the assistance of an unnamed bank chairman earlier yesterday.
Buhari had yesterday formally declared his ambition in Abuja, during which he and several other supporters of his blasted the Peoples Democratic Party, PDP administration of leading the country towards the precipice.
Responding yesterday, President Jonathan expressed regrets that Buhari, who he said should ordinarily be a statesman would twist facts and figures to project an ambition.
In a statement articulated by his spokesman, Dr. Reuben Abati, the president said:
"We have noted with disappointment and regret, the reckless, baseless and unsupportable charges made against the Jonathan's administration yesterday by a supposed elder statesman, General Muhammadu Buhari.
"We wholly reject the allegations made by General Buhari against the Jonathan's administration at the declaration of his intention to contest the 2015 presidential elections as an irresponsible denigration of President Goodluck Jonathan's sincere efforts, over the past four years, to positively transform Nigeria.
"It reflects very badly on the character of the political opposition we now have in Nigeria, that a political leader of General Buhari's stature will deliberately make such false and uncharitable comments about the elected leadership of his country, merely for personal and sectional political gain.
"The falsity of General Buhari's anti-Jonathan and anti-PDP claims will be obvious to knowledgeable Nigerians and friends of the country, but for the benefit of others we affirm that there is absolutely no truth whatsoever in his charge that "the last 16 years of PDP Government has witnessed a decline in all critical sectors of life in Nigeria" or that "the economy continues to deteriorate.
"Statistics and rankings from the National Bureau of Statistics, the Central Bank of Nigeria, the World Bank, the International Monetary Fund and other international economic agencies give the lie to General Buhari's claims on the state of the Nigerian economy.
"As is well known, available figures, statistics and ratings show that the Nigerian economy has consistently maintained an unprecedented growth rate of 6-7% under the Jonathan administration. They also show that the Nigerian economy is now the leading economy in Africa and the 26th largest in the world with a gross domestic product of over $500 billion per annum.
"Also contrary to General Buhari's assertion yesterday, Nigeria's agricultural sector is thriving under the reforms being implemented by the Jonathan administration as current production figures show and neither manufacturing nor commerce is "down" as the APC presidential aspirant alleged.
"His most uncharitable and inexcusable accusation against the present administration was that election rigging continues to thrive in Nigeria.
"We trust that all patriotic, objective and non-partisan Nigerians will reject that allegation knowing it to be invalid and they will have the evidence of the progressively freer, fairer and ever more credible elections conducted under the Jonathan administration to support their position.
"The President will not be discouraged or deterred from his objective of repositioning Nigeria for accelerated and inclusive socio-economic development by the partisan and jaundiced views of power seekers like General Buhari who cannot see the obvious results of the current administration's efforts through their blinkered eyes.
"We also draw the attention of Nigerians to the total lack of originality in the hackneyed manifesto offered to Nigerians yesterday by the APC presidential aspirant."
"All that General Buhari promises to do are already being done by the Jonathan's administration to the acclaim of ordinary Nigerians and there is no evidence before Nigerians that the APC leader and his acolytes can do them better."
"The retired General is free to renege on his well-publicized pledge not to seek elective office again, as he has done, but we urge him to conduct his presidential campaign with greater regard for the truth."
"We also urge him to eschew unbecoming false accusations against others like a true elder statesman and to focus his campaign on more original ideas for the promotion of peace, stability, unity and progress in our beloved nation."
National chairman of the APC Chief John Odigie-Oyegun immediately rebuffed the insinuation saying:
"Well, it means that they are not good students of history and they are not realistic and practical. Before now, there was no truly national alternative in this nation; before now, we had the ANPP that was domiciled in the North East, we had the ACN that was domiciled in the South West and off course they had members all over the places."
Buhari meanwhile, yesterday procured the party's N27.5 million expression of interest and nomination forms at the national secretariat.
Lamenting what the costs of the forms were high, he said that it took the understanding of his bankers in Kaduna and Abuja to raise the money.
"It's a pity I couldn't influence this amount to be put down  as in the case of ladies and the disabled that intend to participate. I always looked left and right in our meetings but I could not read sympathy, so I kept my trap.
"But I felt heavily sorry for myself because I don't want to go and ask somebody to pay for my nomination forms, because I always try to pay myself, at least for the nomination.
"N27 million is a big sum, thankfully I have personal relationship with the manager of my bank in Kaduna and early this morning, I put an early call (and) I told him that very soon the forms are coming, so, whether I am on red, or green or even black please honour it, otherwise I may lose the nomination.
"I was about to go to Kaduna this morning and I told the Chairman (John Odigie-Oyegun) but he said in that case, you better pick your form and keep a straight face. That means there is no excuse," Buhari said.
Responding after handing over the forms to Buhari, the national chairman of the party, Chief Odigie-Oyegun explained that the N27.5m was carefully chosen to "separate men from the boys".
"Let me say that the N27.5m is to separate the men from the boys. It is quite clear. We know you. I don't expect you have N27m under your bed. But I expected that there are Nigerians who will vouch for you any day and who are ready to stand for you any day and that is the result that we have obtained today", he said.
The chairman who expressed satisfaction over the turnout that greeted Buhari's presidential declaration at Eagles Square in Abuja on Wednesday further stated that APC's train was already on its way to the Aso Rock Presidential Villa.
Odigie-Oyegun also yesterday said the party would not be averse to the emergence of a consensus candidate should all the presidential aspirants in the party agree to it. He nevertheless stated the readiness of the party to conduct free and fair primaries that would be acceptable to all.
He said: "I want to congratulate you again on the great event that I watched very avidly on television yesterday. It was good for you but it was good for me and the party. I watched it and I knew the entire nation was watching. And I knew inside me what they would be saying. Yes, truly, APC has arrived. These people mean business. Yes, we are going to have quite a few aspirants and we are very glad at the level of display that one by one, they are putting up. It's a clear indication of the quality in APC.
"It is a clear indication of the quality of leadership that we are offering the nation. "All the people being presented by the APC, there is not one to my mind, so far, who is not eminently qualified to govern this nation and who given even half a chance will not beat anybody PDP can bring to the fore."