Weather, not terrorists, downed fighters jet— DHQ
By Kingsley Omonobi, with agency report
There was confusion, yesterday, over the alleged beheading, by Boko Haram, of an air force pilot whose fighter jet went missing three weeks ago.
The military dismissed the claim that a man beheaded in Boko Haram's latest video was the pilot.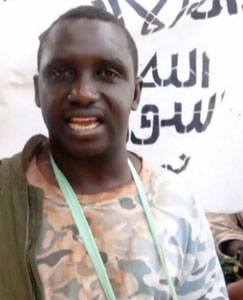 A group which identified as Nigerian Army Support Group, however, confirmed the death of the pilot – a wing commander in the Nigerian Air Force (NAF) – who was named  as Chimda Hedima.
Boko Haram leader, Abubakar Shekau, had claimed in the footage obtained by AP on Thursday that militants shot down the Alpha jet and showed wreckage of an aircraft which included the Nigerian Air Force's green and white roundel.
A man, wearing a camouflage print T-shirt and with a heavily bandaged hand in a sling, was seen later kneeling in front of an unmasked Boko Haram fighter in combat fatigues and saying in English that he was one of the pilots.
He appears to give his name, rank and date of birth but the video is inaudible. He is killed after he finishes speaking.
Asked directly about whether the man was an air force pilot, as claimed, spokesman Air Commodore Dele Alonge told AP: "The man shown in the Boko Haram video is not our officer.
"The picture of a man beheaded in the video is superimposed," he said without elaborating. "Our plane is still missing and we are looking for it. Boko Haram is just making unfounded claims."
AP asked the same question to defence spokesman, Major General Chris Olukolade, who announced last week that Shekau was dead.
"No level or amount of barbaric display of bestial atrocities will distract the Nigerian military from sustaining the tempo of ongoing operations to decimate, degrade and bring the remnants of the terrorists already in disarray to due justice. The campaign against terror is still recording the expected result in the front. Nigerians should not despair," Olukolade said in a text message that was repeated on his Twitter account. He insisted that the military believed that the jet crashed due to bad weather condition.
Nigeria's military has been under pressure to reverse Boko Haram territorial gains in three northeast states of Borno, Yobe and Adamawa in recent months, with reports that soldiers have fled militant attacks and complaints about a lack of adequate weapons.
According to one security analyst who tracks the conflict, the Alpha jet sent a signal that it had been hit and the two pilots' families met air force officers in the days that followed and were told it had crashed.
The jet came down in the heart of rebel-held territory, making search and rescue impossible, he added.
In the video, Shekau is seen on the back of a pick-up truck firing a powerful anti-aircraft gun and boasting about other aircraft Boko Haram has shot down.
Group identifies pilot, tells his story
Meanwhile, a group identified as the  Nigerian Army Support Group, yesterday, declared the death of the air force pilot who it named as Wing Commander Chimda Hedima.
In a post on Facebook, the support group described the pilot as "a true Nigerian hero", noting, "It is with deep regret that we announce the death of a true Nigerian hero, Wing Commander Chimda Hedima (1975-2014)".
Continuing, the group said, "This is his story. Read it, share it. This man was a hero, of the highest order.
"On 11/09/14, a company of NA soldiers attempted to overrun a BH position in Borno. Due to the low altitude, the plane suffered significant damage from the terrorists' gunfire. Wing Commander Hedima and his partner realised that they were going to crash.
"They, instead of hurriedly parachuting to safety within Nigerian controlled territory, chose to embark on a mission to destroy as many terrorists and their weapons as possible".
"They parachuted out at the last minute but not before ensuring their plane slammed into a column of terrorists; 63 Boko Haram members were killed as a result of their bravery.
"Wing Commander Hedima was captured. On 12/09/14, he was killed.
"He chose Nigeria, he chose all of us. We cannot forget him. Please share his story. His name should be known by everyone.
"Rest in peace Commander, we are grateful. May you find eternal peace; Thank you for your service."
Subscribe for latest Videos