Bafana Bafana coach Shakes Mashaba believes Wednesday's African Nations Cup qualifier against Nigeria will be a 'defining moment' for his team.
The national team arrived back in the country on Saturday morning and proceeded straight to Cape Town to start preparing for the game.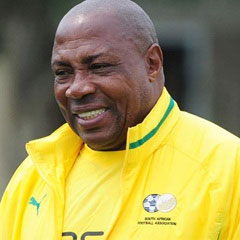 "We are meeting our nemesis but my gut feel is that all that [never beating Nigeria] is about to change. Wednesday should be a defining moment," he said.
Mashaba said that for an absolute change of culture, Bafana Bafana as the torchbearers had to lead the way.
"Of late, Bafana Bafana had become a laughing stock and had lost credit within the football standing and we need to restore that acclaim. We must bring back the pride to our national team and I am glad with the 3-0 win away from home. It is a beginning of that rebuilding process," said Mashaba.
 Babatunde tips Eagles to bounce back
Eagles midfielder Babatunde Michael says he expects the team to bounce back from their opening day loss to Congo in the 2015 Africa Cup of Nations qualifiers.
He  believes the Nigerians will return strongly on Wednesday when they face South Africa.
"I strongly believe we will be stronger against South Africa on Wednesday.
"I believe we will do well in South Africa but we certainly have to play better than we did against the Congolese.
"The South Africans will have so much confidence now having won their first game convincingly, they know they stand a chance against us," Babatunde said.