By Umar Yusuf
No fewer   than 500 houses were destroyed in the Kubi and Watu villages in Michika Local Government Areas of Adamawa State as the suspected Boko Haram insurgents operated unchallenged in one of its recent attacks.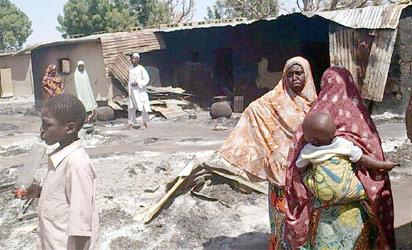 Members of the community, who spoke on the telephone from their hideouts told Vanguard that the absence of military personnel in Michika and its environs was responsible for the heavy damage inflicted on them.
"Since the complete take-over of Michika and Madagali by the insurgents on September 7, 2014, no single soldier has been noticed in the area. The only thing we see are jet fighters which come from Yola, the state capital to drop bombs and go back. Our people are helpless as the insurgents control everything in our local government," they lamented.
According to them, the insurgents were having a field day maiming and killing people and leaving their dead bodies at the mercy of vultures and pigs.
They further alleged that only Vimtim, the hometown of the Chief of Defence Staff, CDS, Air marshal Alex Badeh was fortified by the military in the area.
They then urged the Federal Government, to as a matter of urgency deploy military personnel to the affected areas to give the people a sense of belonging.
The people Michika faulted the actions of the political class in the state, whom they accused of abandoning them at their trying periods .