•Doubles average lifespan of standard roads
•Vows to help in Nigeria's devt
Stories abound of innocent people who met untimely death at the hands of criminals, vehicles with their lifespan cut short all due to bad roads. Along the Apapa-Oshodi Expressway in Lagos, it is not uncommoon to see two or more heavy duty trucks laden with goods from the ports lying prostrate on the road and causing commuters untold hardship, no thanks to potholes.
This major problem, the Office of Sustainability Initiatives of the American University of Nigeria, is poised to solve by giving Nigeria better, longer-lasting and cheaper roads using non-recyclable plastics like noodles pack, under the Plastic Pothole Project initiative being implemented at AUN and its environs.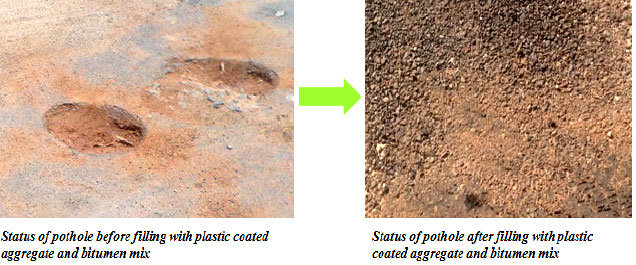 In this chat with Mr. Johnson Anazoba Joseph, a Petroleum Chemistry graduate from AUN and head of the project, he says the project will save cost in bitumen and also rescue the environment from non-biodegradable plastics. Excerpts:
By Ebele Orakpo
QUOTING Dr R. Vasudevan, a Professor in Department of Chemistry, Thiagarajar College of Engineering, Madurai, Tamil Nadu, India and the inventor of the initiative, Joseph said "the process involves mixing hot bitumen and plastic-coated aggregates as fillers for road pavement."
Materials:
"Polymer wastes for the process include non-biodegradable plastic bags, noodle packs and chocolate packs," said Joseph, AUN's Science Lab and Sustainability Consultant. He  noted that the initiative through research in Yola, was conceived by the Office of Sustainability under the directives of Professor Charles Reith, the Academic Vice- President and founding Director of Sustainability Initiatives.
"What is very remarkable and exciting is that with the start of this project, all kinds of plastic materials that the sustainability team had not yet figured out how to recycle, especially those that are particularly stubborn materials and lower-grade plastics, are now useful," said Reith.
"The innovative material has already been put to good use improving roads and parking areas on campus.
Lab samples:
"Lab samples and test on plastic road fillers prepared in AUN's Petroleum Chemistry Lab and Engineering Lab confirmed that the fillers are strong and long-lasting. The fillers are better in performance; they improve plasticity and reduce permeability.
Cost-effective:
"As these waste plastics constitute 10 to 15 per cent of the fillers, it is cost-effective as well," said Joseph, adding:  "About $45 (N7,294) worth of bitumen will be saved from each drum used."
The bigger picture:
"The little exercise is part of a bigger project that will require road construction companies to accept," said Joseph, stating that: "So many roads in Indian communities have been constructed with the initiative and we are advocating for the same thing to happen in Nigeria. Bigger pictures we want to see in the near future include companies like Julius Berger, PW Group, NRC Ltd et al., utilising plastic wastes in road pavements.
"AUN intends to usher the technology into the commercial sector by testing and demonstrating equivalence to incumbent materials relative to strength, compression, durability, and other measures of engineering performance," said Reith.
While commending Joseph, Reith added: "Joseph only recently joined the Sustainability team, and has already seen to it that the vision of the Office is resulting in new initiatives."
Life span and benefits:
"It extends the lifespan of roads. Conventional roads last for about four years and then they begin to crack and develop potholes, but plastic roads last for about eight years due to their strength. By using these non-biodegradable plastic bags as raw materials for road repairs, the environment will be protected from untidy litter and waste.
"The other side of the benefit is the economic potential as it creates a market for roadside trash which also is an incentive to clean up litter," said Joseph.
Job creation:
"Local jobs are created by engaging youths in collecting and preparing waste plastic items. About 40 per cent of total monetary savings from bitumen can cover their wages."
Mr. Mohammed Adamu, Head, Project Unit, AUN's Facilities Department, expressed confidence in the initiative, noting that the outcome of the experiment done about two months ago, shows that it is strong and durable. He said the department will continue implementing the concept in future road pavements on campus as long as the Sustainability Department provides plastic wastes to be used.
Meanwhile, in its avowed mission of being part of the solution to Nigeria's problems, President of 10-year-old AUN, Dr. Margee Ensign, has reaffirmed the institution's readiness to be part of home-grown solution to myriad developmental challenges in Nigeria and the African continent.
She stated this while addressing the AUN Fall 2014 semester enrollees at a Convocation and Pledge ceremony held on August 25 in Yola.
"Guided by the vision of our Founder, His Excellency, Atiku Abubakar, and the AUN Board, this university has dedicated itself to a very special and vital mission—solving Africa's development challenges," said Ensign.
Among the class of 2018 are  two winners of the inaugural Dr. Enyantu Ifenne scholarship for the highest scoring candidate in JAMB from Northern Nigeria, the highest scoring female candidate in the country and another two winners of the Dr. Robert Pastor scholarship for the most deserving student (male and female).
Dr. Ensign said AUN is educating students who understand the challenges related to poverty, illiteracy, conflict, unemployment, poor governance and environmental degradation, and who will become the leaders dedicated to solving them. Further, the AUN faculty is generating the new knowledge and applied research that will foster the development of Nigeria and Africa.
She said although AUN is  young "but already, our students,  faculty, and staff have made a difference in our community, Adamawa State, and in Nigeria. We are leading the way in community service, a program in which all students work in the community, helping to educate,  mentor, and foster peace. Our university is very active in peace-building in this region, in fostering literacy, promoting sound ecological practices to protect the local environment, and in fostering economic development.   We cooperate with other institutions to share our e-library resources, we teach local youth computer skills.  We are determined to be part of the solution to Nigeria's current challenges.
"We expect that you will leave this part of the world a better educated, more prosperous, healthy, and peaceful place than it is today—as we all learn together how to forge a better future."
President of the AUN Students Government Association, Mr. Joseph Oladimeji, and the President of the AUN Honor Society, Ms. Hephzber Obiorah, also gave words of encouragement to the new students.
Subscribe for latest Videos